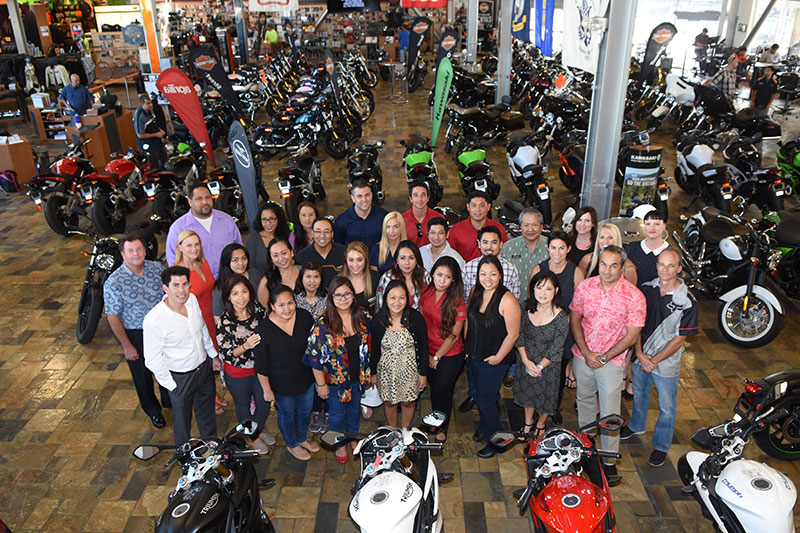 JN Group is committing a portion of sales in October to support women's breast health services provided at Kapiolani Medical Center for Women & Children. JN Group's Breast Cancer Awareness Month "Drive for the Cure" campaign will designate $100 from every new vehicle or new motorcycle sold or leased toward patient care and community education programs at the Kapiolani Women's Center. For this local fundraising effort, JN Group's message simply is "you drive, we donate."
"Giving back to our community and supporting those who need assistance is important for our company," said Brad Nicolai, president of JN Group, Inc., pictured above with JN Group team members at their Cycle City Hawaii location. "We all know someone, whether it's a family member or friend, that has been impacted by breast cancer or has a connection to Kapiolani. All of our employees really got behind this, and this was a great opportunity for us to partner with a great organization like Kapiolani."
Last year's "Drive for the Cure" campaign by the JN Group raised $20,000 for Kapiolani. As a not-for-profit hospital, funding is critical to fulfilling Kapiolani's mission to create a healthier Hawaii. The health and well-being of the women of Hawaii is important with research showing that one in eight women will develop breast cancer during her lifetime.
"We are honored to be the charity of choice for the JN Group" said Kapiolani CEO Martha Smith. "Brad Nicolai and the JN Group have been tremendous corporate partners. Brad and his team see women's care as we do. It's important to consider that the women affected by breast cancer are our mothers, sisters, neighbors and friends. This special sale is important for the funding and for the outreach it does in promoting preventive care, annual mammograms and early detection, which is a priceless message."
The Kapiolani Women's Center opened in 2004 and is dedicated to supporting and promoting women's health, including the prevention, diagnosis and treatment of breast cancer. Patients receive clinical excellence in a warm and supportive environment, fulfilling Kapiolani's vision to provide Hawaii's women convenient, coordinated health care with the support to play an active role in their own health.
Community support allows Kapiolani to provide specialty care and programs like no other facility in the state and the Pacific Region for women, infants and children. As a not-for-profit hospital, Kapiolani is committed to any patient in need regardless of his or her ability to pay.
For more information about JN Group's "Drive for the Cure" campaign, visit JNAutomotive.com.