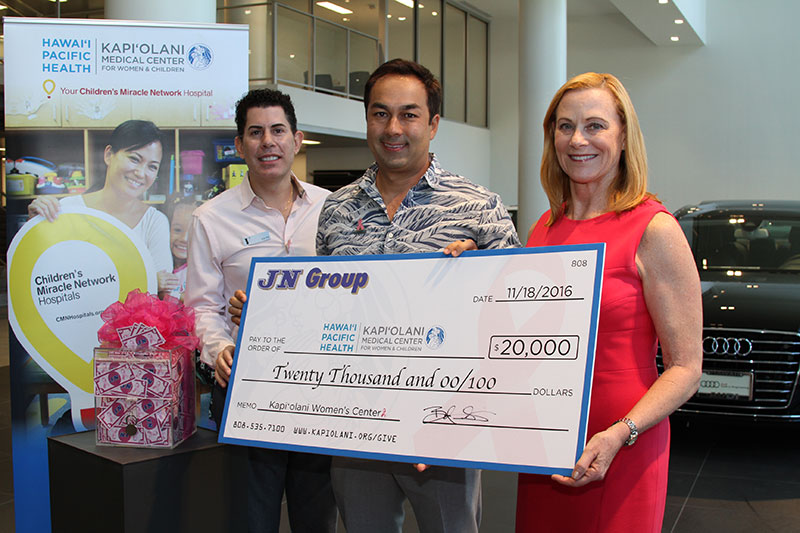 It's a power of pink campaign celebration like no other. The JN Group capped off a successful "Drive for the Cure" campaign with a reception at Velocity, its new auto galleria. The most stunning show of pink for breast cancer was a box full of 200 pink $100 bills, one for every new vehicle or new motorcycle sold or leased in October. The local dealership made special JN Group dollar bills to represent the $20,000 raised in support of women's breast health services at Kapiolani Medical Center for Women & Children.
"These pink bills are symbolic of the strides women are making in the fight against breast cancer and how much we can all do to help," said Brad Nicolai, president of the JN Group. "We thank the community for responding to our campaign. Many people drove away with a new car or motorcycle and the satisfaction of knowing they are a part of supporting Hawaii women fighting breast cancer. It was meaningful for everyone involved from our JN Group staff to our customers."
As a not-for-profit hospital, Kapiolani relies on community support to help fulfill its mission to create a healthier Hawaii. This gift from JN Group will support patient care and community education programs at the Kapiolani Women's Center. In 2016, the Kapiolani Women's Center performed more than 39,000 procedures. The money will help fund services connected to patient navigation and the High Risk Breast Program. The health and well-being of the women of Hawaii is important with research showing that one in eight women will develop breast cancer during her lifetime.
The campaign message was simply "you drive, we donate." For two straight years, JN Group has presented Kapiolani with a check from its Breast Cancer Awareness Month initiative, bringing the overall total donated to Kapiolani to $40,000.
"JN Group is a tremendous corporate supporter of Kapiolani," said Martha Smith, CEO of Kapiolani Medical Center for Women & Children. "Brad and his team see women's care as we do. It is important to consider that the women affected by breast cancer are our mothers, sisters, neighbors and friends. This special cancer awareness campaign is important for the money raised and for its promotion of preventive care, yearly mammograms and early detection."
The Kapiolani Women's Center opened in 2004 and is dedicated to supporting and promoting women's health, including the prevention, diagnosis and treatment of breast cancer. Patients receive clinical excellence in a warm and supportive environment, fulfilling Kapiolani's vision to provide Hawaii's women convenient, coordinated health care with the support to play an active role in their own health.
Community support allows Kapiolani to provide specialty care and programs for women, infants and children like no other facility in the state and the Pacific Region. As a not-for-profit hospital, Kapiolani is committed to any patient in need regardless of his or her ability to pay.
PHOTO CAPTION: Presenting a check for $20,000 to Kapiolani CEO Martha Smith (right) is JN Group Chief Operating Officer Ralph Perkins (left) and JN Group President Brad Nicolai.
About Kapiolani Medical Center for Women & Children
Kapiolani Medical Center for Women & Children is well recognized as Hawaii's leader in the care of women, infants and children. With 207 beds, the not-for-profit hospital is Hawaii's only maternity, newborn and pediatric specialty hospital. It delivers 6,000 babies a year, and is also a medical teaching and research facility. Specialty services for patients throughout Hawaii and the Pacific Region include intensive care for infants and children, 24-hour emergency pediatric and adult care, critical care air transport and high-risk perinatal care. Over 1,500 employees and more than 630 physicians provide specialty care at Kapiolani. The hospital is home to the Kapiolani Women's Center and the Women's Cancer Center, and offers numerous community programs and services, such as specialty pediatric clinics, the Kapiolani Child Protection Center and the Sex Abuse Treatment Center. Kapiolani is an affiliate of Hawaii Pacific Health, one of the state's largest health care providers and a not-for-profit health care network of hospitals, clinics, physicians and other caregivers serving Hawaii and the Pacific region with high quality, compassionate care. In addition to Kapiolani, Hawaii Pacific Health includes Pali Momi Medical Center, Straub Medical Center and Wilcox Medical Center. Learn more at Kapiolani.org.
About JN Group
JN Group Inc. has been doing business since 1961, and has been able to adapt and change with the times to better serve its clients throughout the years. This year, we celebrate 55 fantastic years of JN Group, Inc., which have been filled with excellent service, upholding of our values, and making lasting relationships with our guests. We look forward to all of the years to come serving the Pacific. JN Exotics, Audi Hawaii, Jaguar Honolulu and Land Rover Honolulu are relocating to Velocity Honolulu at 888 Kapiolani Boulevard. Velocity Honolulu is more than an auto showroom; it's a destination. Velocity will feature an array of exclusive premium services such as the Velocity Auto Concierge Service and a luxury vehicle rental program, the Velocity Driving Experience. Velocity will also be the site of the first Michelin rated Italian restaurant collaboration in Hawaii, the result of an exciting partnership between Master Chef Maurizio Roberti and Michelin Chef Gianpaolo Raschi. Velocity will also feature a casual Italian cafe that serves fresh brewed coffee, paninis and pizzas, as well as imported cheeses and wines in the evening. Velocity Honolulu's retail and service offerings will include a new men's specialty boutique, Sixty-One, a full-service barber shop, and an eyelash extension bar by renowned aesthetician Kristin Wood. We look forward to offering Hawaii's largest selection of luxury automotive and motorcycle brands, as well as a retail, dining and lifestyle experience like no other.