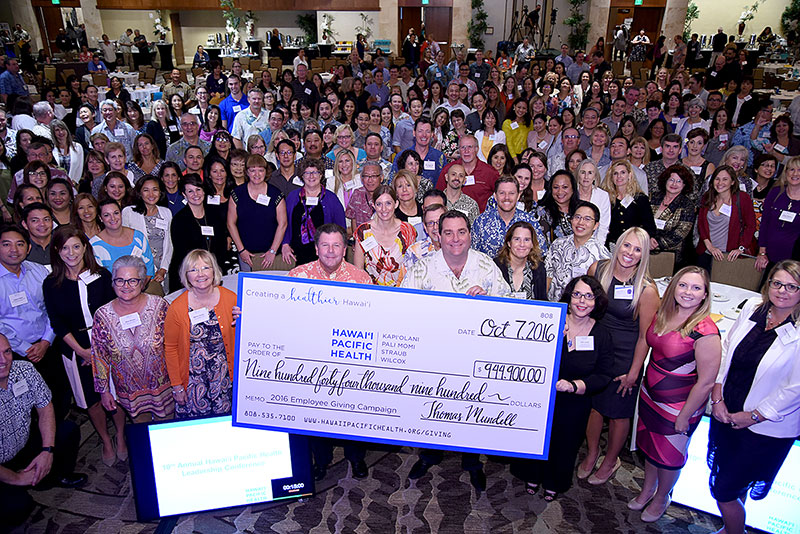 Hawaii Pacific Health employees have generously donated their own money to help patients. The 2016 Hawaii Pacific Health Employee Giving Campaign drew a record $944,900. The money was raised over a one-month period through personal gifts and pledges by 3,885 staff members, and was the most successful Employee Giving Campaign to-date for Hawaii Pacific Health.
This year, the majority of the campaign money will benefit the patient emergency assistance funds at Hawaii Pacific Health's four medical centers – Kapiolani Medical Center for Women & Children, Pali Momi Medical Center, Straub Medical Center and Wilcox Medical Center on Kauai.
Gifts through the Employee Giving Campaign support many unreimbursed services that further Hawaii Pacific Health's efforts to heal patients and comfort their families. When a medical crisis arises, these funds can assist with things like medication, medical equipment, transportation and necessities for healing.
"This is a true testament to our employees' commitment to creating a healthier Hawaii. It's more than a mission we work by, it's a mission we live by. Our employees at Hawaii Pacific Health believe that giving starts with us," said Senior Vice President of Philanthropy Tom Mundell. "As a not-for profit organization, these donations make all the difference for the patients who need it most. We do not turn anyone away regardless of their ability to pay."
While the patient emergency assistance funds were the focus of the Hawaii Pacific Health Employee Giving Campaign, staff members also had an opportunity to support the community in other ways. Employees also donated to Aloha United Way and Kauai United Way. There also were many gifts to Children's Miracle Network Hospitals to maintain programs at Kapiolani, such as the playroom, child life, tutoring and chaplain services.
"Our employees care deeply about their patients and the results of this Employee Giving Campaign demonstrate that," said Gail Lerch, Executive Vice President for Human Resources and Organizational Effectiveness. "What is inspiring to all of us is the personal choice our employees made to get involved and give back. Participation in this campaign is completely voluntary. We are so proud to work alongside such generous employees from senior leadership to housekeeping."
For 30 days, employees were invited to make a gift in support of the philanthropic mission of each hospital. Employees from every department volunteered to be team leaders and helped to inspire peers to participate. There also were a number of creative fundraising events at each facility, ranging from cupcake wars to dunking booths, which raised more than $57,000 for the campaign.