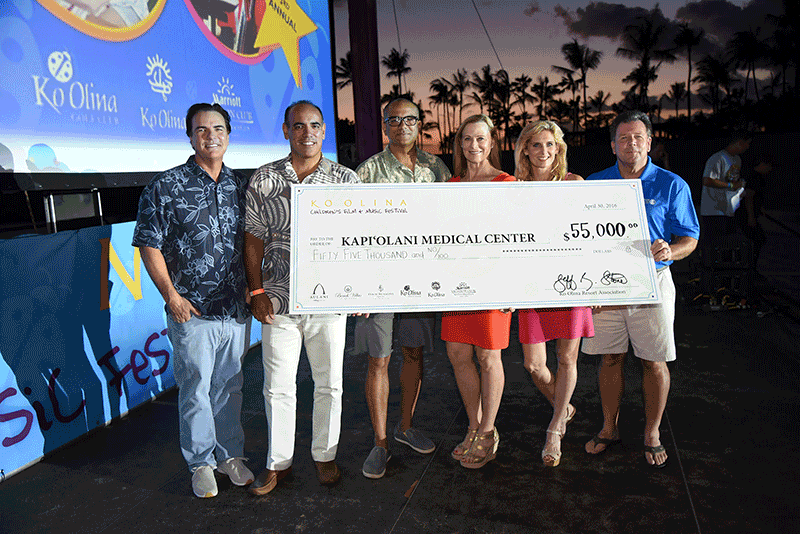 The third annual Ko Olina Children's Film & Music Festival, a benefit for Kapiolani Medical Center for Women & Children, was held Saturday, April 30, and drew more than 2,000 people for a day of family-friendly movies from Disney•PIXAR and special appearances by Jake Shimabukuro and Aulii Cravalho, the voice of Disney's "Moana." Ticket sales and contributions from the Ko Olina Resort Association resulted in a $55,000 donation to Kapiolani, which was presented at the event.
Funds from this annual event help support Kapiolani's mission to provide health care services and specialized programs for women and children regardless of their ability to pay. Over the past three years, a total of $155,000 has been raised to benefit Kapiolani.
"The Ko Olina Children's Film & Music Festival was created to inspire and celebrate the creativity in our children through multiple innovative channels," said Jeffrey R. Stone, President, Ko Olina Resort Association, and CEO, The Resort Group. "Kapiolani Medical Center for Women & Children strives to provide the best medical care possible for our keiki and their ohana and we share their commitment to our community. We thank the attendees for their support of this festival and our community's future generations."
Sunset movies on the beach were the showcase of the event and featured the short film "Lava," feature film "Big Hero 6" and a special Hawaii viewing of "Kuu Lei Melody" shown on a "floating" stage at Ko Olina's Kohola lagoon. In "Kuu Lei Melody," the 53rd episode of the "Mickey Mouse" cartoon series, Mickey is determined to write a song that leads him on a mystical journey through the Hawaiian Islands.
Throughout the day, festivalgoers also enjoyed film screenings of fan-favorites like "Monsters University," "UP," "Inside Out," "Aladdin" and "Paper Planes" at Aulani, A Disney Resort & Spa. In addition to Jake Shimabukuro, live performances included Pas de Deux Hawaii, Samadhi Hawaii aerialists, The Playground Dance Studio and POW! WOW! Hawaii School of Music.
"We're extremely grateful to Jeff Stone, the Ko Olina Resort Association and especially the community, who make this event a success each year," said Kapiolani CEO Martha Smith. "As a not-for-profit organization, we rely on community support to help us fulfill our mission to provide Hawaii's families with specialized medical care and other programs that would otherwise not be available."
Thanks in large part to community support, Kapiolani's new 200,000-square-foot, state-of-the-art Neonatal and Pediatric Intensive Care Unit Building will open this July. The building will feature an expanded Neonatal Intensive Care Unit (NICU) with 70 private rooms and a Pediatric Intensive Care Unit (PICU) with 14 private rooms. These private rooms will help support Kapiolani's focus on family-centered care, allowing parents and caregivers to stay overnight and be more involved with their children's care.
On stage during the check presentation were (pictured above from left to right):
Jeff Stone, President, Ko Olina Resort Association
Elliot Mills, Vice President, Hotel Operations, Disneyland Resort and Aulani, A Disney Resort and Spa, and Board Member, Kapiolani Medical Center for Women & Children
Sanjiv Hulugalle, General Manager, Four Seasons Resort Oahu at Ko Olina
Martha Smith, CEO, Kapiolani Medical Center for Women & Children
Linda Jameson, Senior Development Officer, Kapiolani Medical Center for Women & Children
Tom Mundell, Senior Vice President of Philanthropy, Hawaii Pacific Health


About Ko Olina
Ko Olina is a 642-acre master-planned resort community on the western shore of the island of Oahu. Resort partners include Aulani, A Disney Resort & Spa, Four Seasons Resort Oahu at Ko Olina (set to open June 2016), Marriott's Ko Olina Beach Club, Beach Villas at Ko Olina, Ko Olina Golf Club, Ko Olina Marina, oceanfront wedding chapels, and the Ko Olina Station and Ko Olina Center retail hub. The resort, known as Oahu's premier vacation destination, also features four pristine oceanfront lagoons connected by 1.5 miles of shoreline pathways, access to a diverse selection of ocean and outdoor activities and the island's best weather. For more information, visit koolina.com.

About Kapiolani Medical Center for Women & Children
Kapiolani Medical Center for Women & Children is well recognized as Hawaii's leader in the care of women, infants and children. With 207 beds, the not-for-profit hospital is Hawaii's only maternity, newborn and pediatric specialty hospital. It delivers 6,000 babies a year, and is also a medical teaching and research facility. Specialty services for patients throughout Hawaii and the Pacific Region include intensive care for infants and children, 24-hour emergency pediatric care, and high-risk perinatal care. Over 1,500 employees and more than 630 physicians provide specialty care at Kapiolani. The hospital is home to the Kapiolani Women's Center and the Women's Cancer Center, and offers numerous community programs and services, such as specialty pediatric clinics, the Kapiolani Child Protection Center and the Sex Abuse Treatment Center. Kapiolani is an affiliate of Hawaii Pacific Health, one of the state's largest health care providers and a not-for-profit health care network of hospitals, clinics, physicians and other caregivers serving Hawaii and the Pacific region with high quality, compassionate care. In addition to Kapiolani, Hawaii Pacific Health includes Pali Momi Medical Center, Straub Clinic & Hospital and Wilcox Memorial Hospital. Learn more at kapiolani.org.