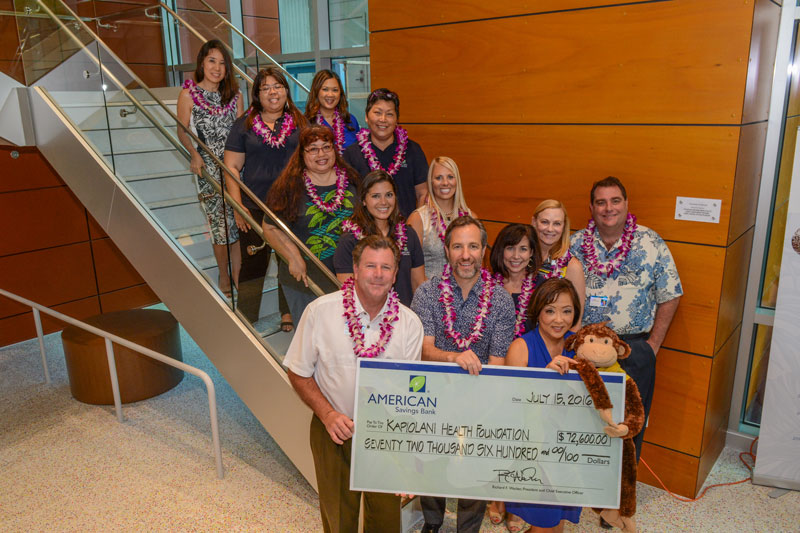 American Savings Bank employees raised $72,641 for Kapiolani Medical Center for Women & Children through their annual employee giving campaign, Kahiau. The funds will support the hospital's Child Life Services program, which provides various services for pediatric patients to help them cope positively with their illness and hospitalization.
"We're extremely grateful to the employees at American Savings Bank for their continued generosity," said Martha Smith, CEO at Kapiolani Medical Center. "Being in the hospital can be an unfamiliar and stressful environment for children. This gift will support our Child Life staff in their work with pediatric patients and their families to help them cope positively with their illness, hospitalization and recovery."
This year, the funds will specifically help to support the purchase of "monkey kits" through Monkey in My Chair, a national program utilized as part of Kapiolani's educational support services to help pediatric cancer patients stay connected to their school and classmates. The kits are provided for free to pediatric patients, and include a big stuffed monkey that takes their place in school when they are unable to be there as a way to help teachers explain the situation and help keep a feeling of normalcy for both the patient and their classmates.
The Kapiolani Medical Center for Women & Children is one of American Savings Bank's participating nonprofit partners for Kahiau, which in Hawaiian means to give from the heart without the expectation of anything in return. American Savings Bank is a committed donor to Kapiolani contributing a total of more than $500,000 to date, much of which has come from the bank's 1,200 employees.
"What Kapiolani does to care for children and families is so impactful to this community," said Rich Wacker, President and CEO of American Savings Bank. "Our ASB teammates are passionate supporters of Kapiolani and many of us have personal stories, which is why the donations have been so generous over the years and continue to grow. We're proud to support Kapiolani's mission to provide exceptional care for Hawaii's families."
American Savings Bank is also recognized in the new Diamond Head Tower for giving to the Campaign for Hawaii's Children. The Grand Staircase located in the new lobby has been named in honor of ASB and its employees for their generous gift to Kapiolani's building expansion.
To support a multi-phase rebuild and expansion of the hospital, the Kapiolani Health Foundation reached out to the community for its largest capital campaign. The Campaign for Hawaii's Children raised more than $34 million for the first phase of construction. As a not-for-profit hospital, Kapiolani provides care for every patient in need regardless of their family's ability to pay.