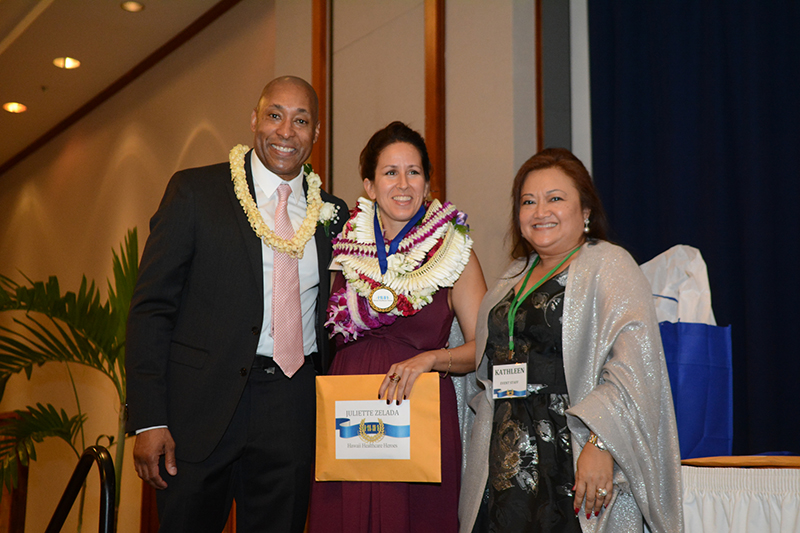 Juliette Zelada, MD, a general surgeon and trauma medical director at Wilcox Memorial Hospital, is one of five healthcare professionals in the state who were recently recognized by the Healthcare Association of Hawaii with its 2015 Hawaii Healthcare Hero award.
The award recognizes extraordinary healthcare workers who went above and beyond to care for a patient in a memorable way. The award recipients are nominated by patients and selected based on care they provided that made a significant difference to their patients.
"We are very proud of Dr. Zelada for being selected for this honor, and especially for being recognized and nominated by a patient for the care that she provided," said Wilcox President and CEO Jen H. Chahanovich. "It speaks volumes when a patient or family takes the time to recognize a physician in this way. Dr. Zelada is a dedicated and talented surgeon, and we're fortunate to have her as a part of the Wilcox team."
Zelada has been a surgeon on the medical staff at Wilcox for four years. She is a graduate of the University of Southern California and received her medical degree from the University of California, Los Angeles. She completed her internship and residency at King-Drew Medical Center and Harbor-UCLA Medical Center, both in Los Angeles. Her fellowship training was in laparoscopic colorectal surgery at the University of Southern California. A member of the American College of Surgeons, she is board certified and specializes in laparoscopic and colorectal surgery.
PHOTO CAPTION:
Dr. Juliette Zelada of Wilcox Memorial Hospital on stage receiving her 2015 Hawaii Healthcare Hero award from (left) George Greene, Esq., President & CEO of the Healthcare Association of Hawaii, and (right) Kathleen Libao-Laygo, RN, Director of Quality & Regulatory Affairs of the Healthcare Association of Hawaii.