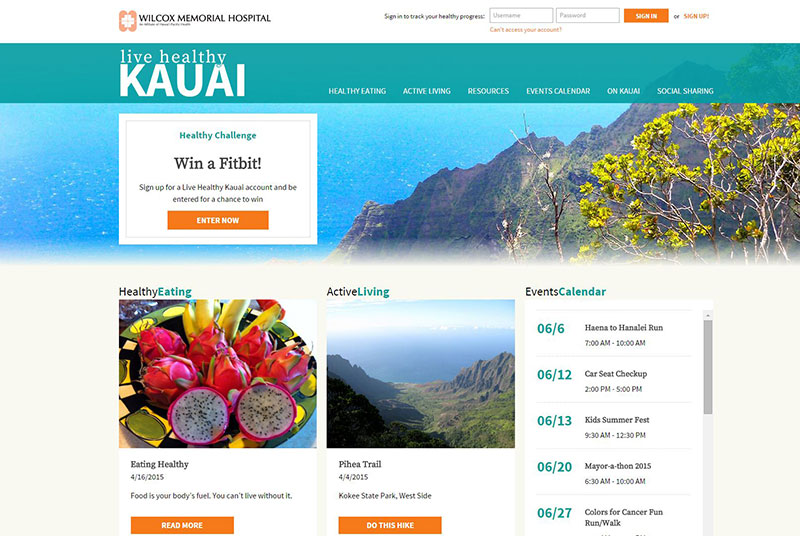 Wilcox Memorial Hospital, Kauai's largest medical facility has launched a new health and well-being website, LiveHealthyKauai.org, that includes a wide variety of information and tips for leading a healthy and active lifestyle. 
"Our Live Healthy Kauai website recognizes the need for a holistic, convenient health service platform for anyone on Kauai, kamaaina or visitor," said Kathy Clark, president and CEO of Wilcox Memorial Hospital and CEO of Kauai Medical Clinic. "We know that physical activity levels, diet and weight have profound effects on chronic diseases and health conditions, such as diabetes and high blood pressure. With this website, we hope to help people find the tools and resources they need to live and stay healthy, no matter their age or fitness level."
In addition to information on nutrition, fitness classes and activities, hiking trails and health screenings, LiveHealthyKauai.org also features a login area where users can track their individual health and wellness goals, including their weight, exercise, BMI and caloric intake. Using fresh, light colors and a simplistic, mobile phone and tablet-friendly design, the website allows for on-the-go access and for users to easily navigate and stay on top of future happenings on the Garden Isle.
Featured sections include: Healthy Eating for recipes and nutrition tips; Active Living with stories on outdoor activities, fitness classes, ocean sports, and other fitness ideas; Resources for information on preventive screening, illnesses, youth and senior programs; and an extensive Event Calendar.
The site also includes listings of health food stores, farmers markets, gyms, neighborhood centers, beaches and more, as well as an island-wide map showing all locations.