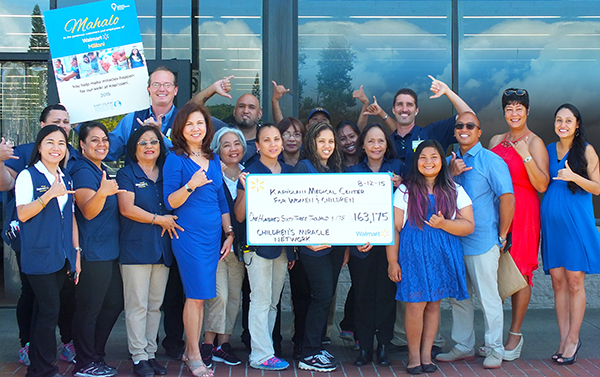 Walmart and Sam's Club associates, customers and members recently wrapped up a six-week campaign to raise funds for Children's Miracle Network Hospitals (CMNH) across the country. Kapiolani Medical Center for Women & Children, Hawaii's only Children's Miracle Network Hospital, partnered with nine Walmart stores and two Sam's Clubs in Hawaii to raise $163,175. The funds will go toward Kapiolani's Pediatric Transport Team, a highly skilled group of nurses and respiratory therapists that provide lifesaving medical care to newborns and critically ill children who need special care while being moved to Kapiolani from across Oahu, the neighbor islands, and to the mainland.
Nationally, through donations accepted at cash registers and in-store fundraising activities, Walmart raised more than $40.2 million for the 170 hospitals that make up Children's Miracle Network Hospitals and helps CMNH provide patient visits for more than 10 million kids each year.
"We're so pleased to be able to support Kapiolani Medical Center for Women & Children and their valuable programs each year," said Steven Reed, Hawaii Market Manager for Walmart. "Our store associates enjoy coming up with creative fundraising activities and the outpouring of support from our customers is truly inspiring."
This year's campaign is the most recent in annual fundraising by the retailers, as Walmart and Sam's Club have collected more than $750 million since partnering with the charity in 1987. Walmart and Sam's Club funds impact each of the 170 Children's Miracle Network Hospitals, which treat 1 in 10 children across North America. Hospitals utilize the funds based on the area of greatest need — typically for purchasing lifesaving equipment, supporting top therapy programs and providing charitable care.
Kapiolani CEO Martha Smith said donations like the one from Walmart and Sam's Club are critical in order to help subsidize the costs of the Pediatric Transport program. "We're the only neonatal and pediatric transport system in the state. The local community depends on us to provide this service, and we are so proud and thankful to Walmart and Sam's Club and all of their associates for their passion and amazing show of generosity."
Smith said that in fiscal year 2015, Kapiolani safely transported more than 675 patients across Oahu, from the neighbor islands, and to the mainland. This gift helps the team to continue to provide specialty care at Kapiolani, using an "ICU on wheels," specially outfitted equipment for neonatal and pediatric care. This includes a state-of-the-art incubator, pediatric stretcher set ups, an on-board monitor to check a patient's vital signs, a ventilator, an IV and special IV syringe pumps to dispense medication.
The retailer's six-week campaign ran May 1 to June 14, 2015. Walmart and Sam's Club 2015 fundraising efforts will continue throughout the year at participating locations through various in-store activities. For more information on Children's Miracle Network Hospitals, visit CMNHospitals.org.

About Philanthropy at Walmart
By using our strengths to help others, Walmart and the Walmart Foundation create opportunities for people to live better every day. We have stores in 28 countries, employing more than 2.2 million associates and doing business with thousands of suppliers who, in turn, employ millions of people. We are helping people live better by accelerating upward job mobility and economic development for the retail workforce; addressing hunger and making healthier, more sustainably-grown food a reality; and building strong communities where we operate and inspiring our associates to give back. Whether it is helping to lead the fight against hunger in the United States with $2 billion in cash and in-kind donations or supporting Women's Economic Empowerment through a series of grants totaling $10 million to the Women in Factories training program in Bangladesh, China, India and Central America, Walmart and the Walmart Foundation are not only working to tackle key social issues, we are also collaborating with others to inspire solutions for long-lasting systemic change. To learn more about Walmart's giving, visit foundation.walmart.com.
About Children's Miracle Network Hospitals
Children's Miracle Network Hospitals® raises funds and awareness for 170 member hospitals that provide 32 million treatments each year to kids across the U.S. and Canada. Donations stay local to fund critical treatments and healthcare services, pediatric medical equipment and charitable care. Since 1983, Children's Miracle Network Hospitals has raised more than $5 billion, most of it $1 at a time through the charity's Miracle Balloon icon. Its various fundraising partners and programs support the nonprofit's mission to save and improve the lives of as many children as possible. Find out why children's hospitals need community support, identify your member hospital and learn how you can Put Your Money Where the Miracles Are, at CMNHospitals.org and facebook.com/CMNHospitals.
About Kapiolani Medical Center for Women & Children
Kapiolani Medical Center for Women & Children is well recognized as Hawaii's leader in the care of women, infants and children. With 207 beds, the not-for-profit hospital is Hawaii's only maternity, newborn and pediatric specialty hospital. It delivers 6,000 babies a year, and is also a tertiary care, medical teaching and research facility. Specialty services for patients throughout Hawaii and the Pacific Region include intensive care for infants and children, 24-hour emergency pediatric care, maternal fetal medicine, and high-risk perinatal care. Over 1,500 employees and more than 630 physicians provide specialty care at Kapiolani. The hospital is home to the Kapiolani Women's Center and the Women's Cancer Center, and offers numerous community programs and services, such as the Kapiolani Child Protection Center and Sex Abuse Treatment Center. Kapiolani is an affiliate of Hawaii Pacific Health, the state's largest health care provider. Learn more at kapiolani.org.