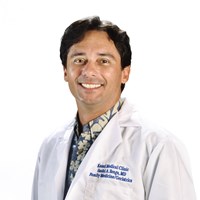 Kauai Medical Clinic announces the addition of Dr. Sashi Andrade Braga, family medicine physician, to its medical staff.
Braga is board certified in family medicine and integrative holistic medicine. He obtained his medical degree at the Faculty of Medicine of the Federal University of Ceara (UFC) Fortaleza in Ceara, Brazil, and completed his residency at the University of Texas Medical Branch, John Sealy Hospital in Galveston, Texas.
Braga completed his fellowships at the Department of Geriatric Medicine at the University of Hawaii's John A. Burns School of Medicine, and at the Royal New Zealand College of General Practitioners in Wellington, North Island New Zealand.
He is a member of the American Academy of Family Medicine, the American Geriatrics Society and the Royal New Zealand College of General Practitioners.
Braga recently moved to Kauai from New Zealand. He enjoys spending time with his family, surfing, diving, hiking, traveling and stand-up paddleboarding.