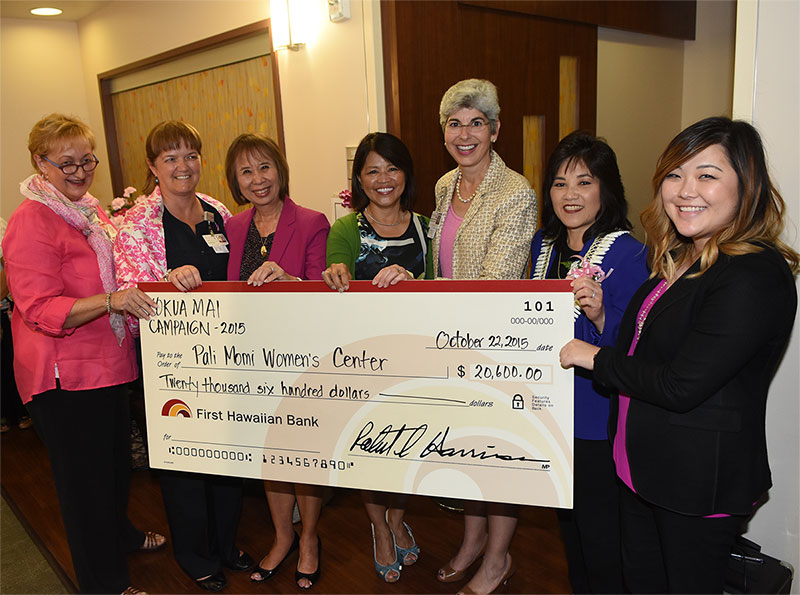 The Pali Momi Women's Center at Pali Momi Medical Center recently celebrated the unveiling of a renovated Patient Resource Room made possible through a donation from First Hawaiian Bank's Kokua Mai Employee Giving Campaign. A total of $20,600 was donated to Pali Momi by First Hawaiian Bank employees and retirees.
The funds enabled Pali Momi to renovate a space in the Women's Center and turn it into a private Patient Resource Room. The new private area gives breast cancer patients a dedicated space for a variety of activities to help support them through their treatment and recovery, such as trying on wigs, getting makeovers and having fittings for post-surgical specialty bras. The space also provides a private setting for the center's breast health navigators to meet with patients and their families regarding their care and treatment plans.
"We are extremely grateful to First Hawaiian Bank and their employees who chose to support Pali Momi Medical Center," said Pali Momi Chief Operating Officer Gidget Ruscetta. "As a not-for-profit hospital, Pali Momi relies on the generosity of the community to help us fulfill our mission of providing quality care to the people of Central and West O'ahu. This gift from First Hawaiian Bank will support the innovative and personalized breast health care provided by the physicians and staff at our Women's Center."
In addition to the renovated Patient Resource Room, the funds also supported the purchase of planners and journals designed for breast cancer patients to help guide them through their treatment, and a variety of breast models used to educate patients and the community on how to properly perform a self-breast exam.
"First Hawaiian Bank is honored to have this opportunity to promote women's health in Hawaii," said Executive Vice President of Human Resources Iris Matsumoto. "Our workforce is made up of a majority of women and a great deal of them live in Central and West O'ahu. This gift is both an investment in the well-being of our staff and our community. We are proud of how committed First Hawaiian Bank employees and retirees are in personally supporting the needs of others."
The unveiling of the new Patient Resource Room was important to the Pali Momi Women's Center's efforts to promote Breast Cancer Awareness Month. Along with the donor celebration, more than 60 First Hawaiian Bank employees participated in a women's health fair called Girls Night Out. The event included health screenings, cooking demos, educational talks and massages to help women make their health a priority while spending time with friends.
The Pali Momi Women's Center specializes in providing caring, coordinated and comprehensive health services to women of all ages. Breast health services provided at the Women's Center include:
digital 2D and 3D mammography (tomosynthesis breast imaging)
computer aided detection (CAD), an advanced analysis of images to help detect the presence of abnormalities
non-surgical breast biopsy (stereotactic and ultrasound)
breast ultrasound
Automated Whole Breast Ultrasound (AWBUS), which is the latest technology available to detect breast cancer for women who have been diagnosed with dense breast tissue
The center was recently granted a full, three-year accreditation designation by the National Accreditation Program for Breast Centers, a program administered by the American College of Surgeons.

PHOTO CAPTION:
Pictured in the photo above are (l to r) Pali Momi Women's Center Director Nancy von Borzestowski, Pali Momi Vice President of Patient Services and Chief Nurse Executive Brigitte McKale, Dr. Charlene Bell, Pali Momi Foundation Board Member Violeta Arnobit, Pali Momi Chief Operating Officer Gidget Ruscetta, First Hawaiian Bank's Senior Vice President of Human Resources Carol Ono and Michelle Okada.