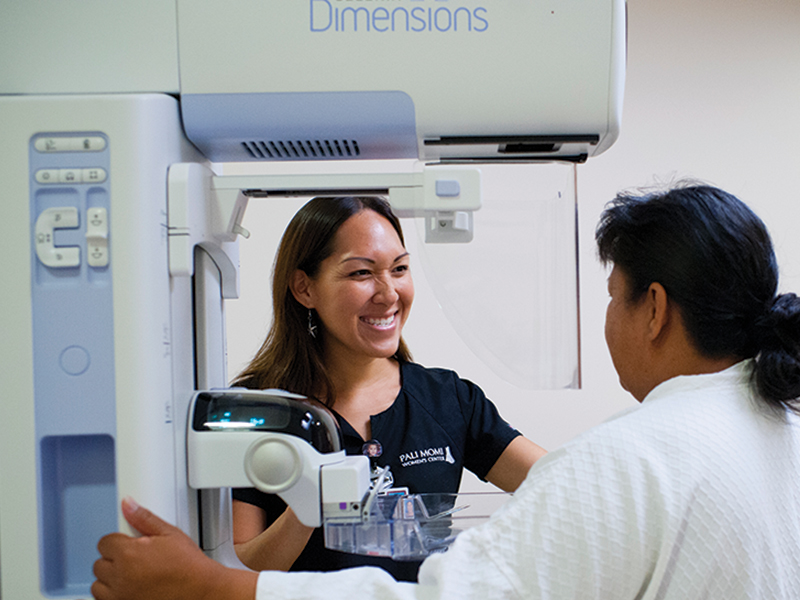 The Women's Center at Pali Momi Medical Center has been granted a full, three-year accreditation designation by the National Accreditation Program for Breast Centers (NAPBC), a program administered by the American College of Surgeons. Accreditation by the NAPBC is given only to centers that have voluntarily committed to provide the highest level of quality breast care and that undergo a rigorous evaluation process and review of their performance.
"We're extremely proud of the quality of care and service provided to our patients at the Pali Momi Women's Center," said Pali Momi CEO Jen H. Chahanovich. "This designation validates the efforts of our Women's Center physicians, nurses and staff to maintain the highest standards of care and our commitment to ensure access to quality breast health services, particularly for residents of Central and West Oahu."
The Pali Momi Women's Center specializes in providing caring, coordinated and comprehensive health services to women of all ages. Breast health services provided at the Women's Center include:
digital 2D and 3D mammography (tomosynthesis breast imaging)
computer aided detection (CAD), an advanced analysis of images to help detect the presence of abnormalities
non-surgical breast biopsy (stereotactic and ultrasound)
breast ultrasound
Automated Whole Breast Ultrasound (AWBUS), which is the latest technology available to detect breast cancer for women who have been diagnosed with dense breast tissue
During the NAPBC survey process, the center was required to demonstrate compliance with standards established by the NAPBC for treating women who are diagnosed with the full spectrum of breast disease. The standards include proficiency in the areas of center leadership, clinical management, research, community outreach, professional education and quality improvement. A breast center that achieves NAPBC accreditation has demonstrated a firm commitment to offer its patients every significant advantage in their battle against breast disease.
The NAPBC is a consortium of professional organizations dedicated to the improvement of the quality of care and monitoring of outcomes of patients with diseases of the breast. This mission is pursued through standard-setting, scientific validation, and patient and professional education. Its board membership includes professionals from 20 national organizations that reflect the full spectrum of breast care.
According to the American Cancer Society (ACS), it is estimated that about 231,840 new cases of invasive breast cancer will be diagnosed in women in 2015. In addition, hundreds of thousands of women who will deal with benign breast disease will require medical evaluation for treatment options.
Receiving care at a NAPBC-accredited center ensures that a patient will have access to:
Comprehensive care, including a full range of state-of-the-art services
A multidisciplinary team approach to coordinate the best treatment options
Information about ongoing clinical trials and new treatment options
Quality breast care close to home
For more information about the NAPBC, visit accreditedbreastcenters.org.
About Pali Momi Medical Center
With 128 beds and nearly 400 physicians on its medical staff, Pali Momi Medical Center offers a full range of services for the communities of Central and West Oahu. The hospital has delivered many medical firsts for the community, including Central and West Oahu's only interventional cardiac catheterization unit to detect and treat heart disease, a fully integrated minimally invasive surgical suite, a comprehensive women's center, CT scan and MRI services, and the state's first retina center. Pali Momi is the only facility in Hawaii that uses a team triage approach in its emergency room, where patients are promptly evaluated by an emergency physician. The hospital is an affiliate of Hawaii Pacific Health, the state's largest health care provider. Hawaii Pacific Health is a not-for-profit health care network of hospitals, clinics, physicians and other caregivers serving Hawaii and the Pacific region with high quality, compassionate care. Learn more at palimomi.org.