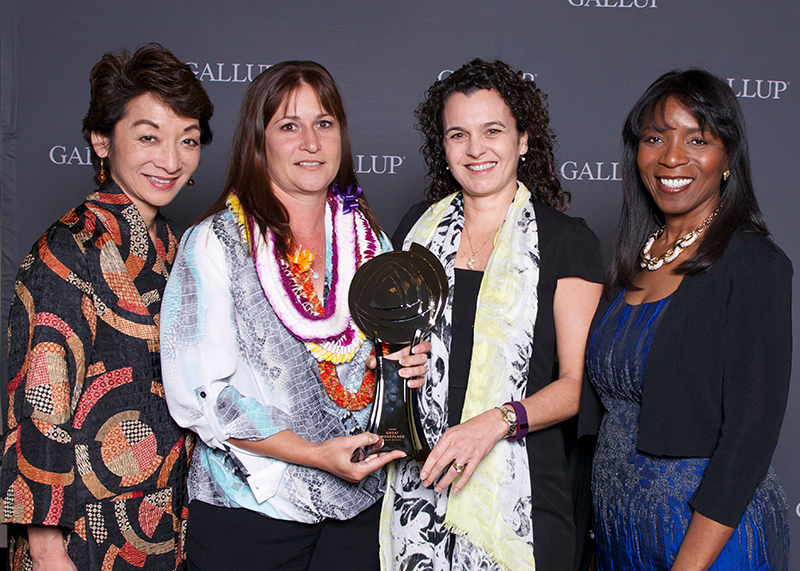 Hawaii Pacific Health (HPH) has been recognized with the prestigious Gallup Great Workplace Award for the fourth year in a row.
The award recognizes HPH as one of 40 organizations leading the world in employee engagement with winners based in a wide range of countries including Canada, China, India, Indonesia, Netherlands, Singapore, Thailand, the United Arab Emirates, the United Kingdom and the United States.
HPH is currently ranked in the 86th percentile when benchmarked to a Gallup database of more than 1.3 million health care employees, and averages nine engaged employees for every one actively disengaged employee, which is five times the rate in the U.S. and more than 16 times the rate for workforces globally.
All of the companies honored with the award are recognized for the business impact achieved by integrating engagement into four areas that Gallup has identified as vital to cultivating a workplace culture of engagement: strategy and leadership, accountability and performance, communication and knowledge management, and development and ongoing learning.
A team from HPH recently accepted the award on behalf of the organization at the Gallup Workplace Summit in Omaha, Nebraska. Pictured above are (left to right) Kapiolani Medical Center for Women & Children Vice President Dawn Ching, Wilcox Memorial Hospital Manager Julie Akita, and Hawaii Pacific Health Directors Raquel Craven and Gloria Brooks.
Akita was also honored as one of 10 finalists for Gallup's Manager of the Year award, which recognizes managers from Gallup Great Workplace Award-winning organizations who consistently achieve the highest levels of engagement for their teams, have high team retention, and have high team performance.