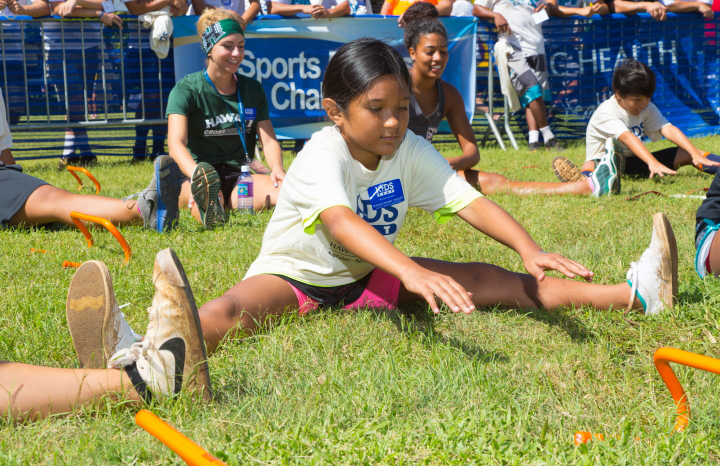 Hawaii Pacific Health presents Kids Fest, a free health education event for kids and families, on Sunday, Oct. 25, from 10 a.m. to 2 p.m. at the Bishop Museum. Admission to the Bishop Museum is free for Hawaii residents and military families with a valid ID on the day of Kids Fest.
Kids Fest offers interactive games and activities to promote healthy active lifestyles, exercise and nutrition, and childhood injury prevention. This year's event will offer health information and activities, free snacks and giveaways (while supplies last), and the chance for children ages 4-12 to win a bike and helmet or surfboard. More than 30 health and wellness booths will provide educational information on a variety of topics, such as:
"Goodnight Silver Moon" will help kids learn how to properly brush their teeth, identify healthy bedtime snacks, and know the suggested hours of sleep they need based on their age.
"Breathe Easy: Keiki Asthma Workshop" will teach families how to catch the signs of asthma and learn about triggers.
"Bubble Up" will highlight the importance of proper hand washing.
"MyPlate is Great!" will offer tips on identifying the appropriate servings to eat per each food group.
"Why Drink Wai?" will educate kids about the benefits of staying hydrated. 
Teddy Bear Clinic will teach children what to expect when they check-in to the hospital.
Community partners will be there to provide additional education information on topics including:
"Pedestrian Safety Education" will offer tips from the Department of Transportation about crossing and walking safely.
"Kids Teaching Kids to Save Lives" will have hands-on sessions by Hawaii HEART, where instructors of all ages will teach keiki how to perform life-saving Hands-Only CPR, and how to use and respond to automated external defibrillators.
"Concussion Awareness: Signs & Symptoms" will give keiki the opportunity to participate in rehab exercises with Hawaii Concussion Awareness and Management Program (HCAMP), and learn to identify signs and symptoms of a concussion. 
Meet Balloon Monsoon, Ronald McDonald, and Meadow Gold's Kawika and Lani Moo.
A highlight of the annual event is the "Are You Fitter Than a 5th Grader?" Sports Challenge, a friendly competition of local news personalities and elementary school students. Teams of fifth graders from local elementary schools will compete for the opportunity to challenge the winning news team and test their athletic abilities for the overall championship. 
Registration for the event begins on-site at 9:30 a.m. For more information, please call 808-522-3469 or go online at hawaiipacifichealth.org/kidsfest. Hawaii Pacific Health is committed to providing Hawaii families with accessible, high quality and compassionate health care. Kids Fest is an annual event designed to share valuable health information with the community in a fun, interactive format.