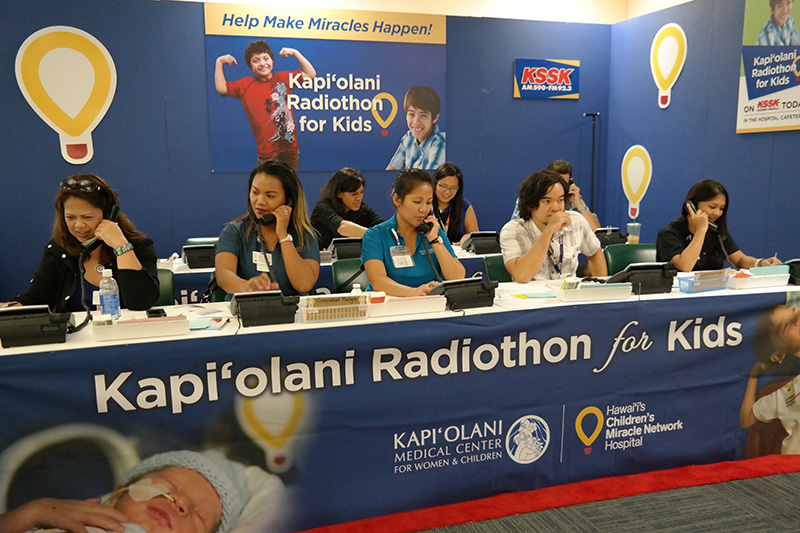 Children's Miracle Network Hospitals and iHeartMedia were honored with a Silver Cause Marketing Halo Award in the Best Message-focused Campaign Category at the 13th Annual Cause Marketing Forum Conference. Sixteen programs received Halo awards for outstanding efforts to do well by doing good in 2014. 
Since 2007, KSSK Radio has partnered with Kapiolani Medical Center for Women & Children for the two-day Radiothon event each August. Since it started in 2006, Kapiolani's Radiothon for Kids has raised over $980,000 with 100 percent of every donation staying in Hawaii to support our hospitalized keiki. These gifts help ensure Kapiolani can continue providing high quality medical care to countless keiki patients and their families right here at home. 
The radiothon event at Kapiolani Medical Center provides a special opportunity for listeners to hear the incredible stories of local kids treated at Kapiolani, and to take action. iHeartMedia and Radiothon engage and inspire listeners to take action, focus on local communities and drive sponsorship revenue that benefit the local CMN Hospital.
In 2014, 35 iHeartMedia radio stations raised nearly $6.5 million for Children's Miracle Network Hospitals and over the past three years have raised $19.5 million to help save and improve kids' lives. When Children's Miracle Network Hospitals receives a donation, it stays in the community to help local kids — a dynamic that is closely aligned with iHeartMedia's commitment to serve its local listeners and communities. 
"We congratulate Children's Miracle Network Hospitals for its success at simultaneously building a better world and the bottom line," said Cause Marketing Forum president David Hessekiel. Nearly 100 programs were entered in this year's Cause Marketing Halo Award competition.
"Competition in this field continues to grow – just adding a charitable angle to a campaign is no longer novel," said Hessekiel. "Children's Miracle Network Hospitals Radiothons are being recognized for going beyond the basics to offer a unique initiative able to draw attention and engagement."
Now in their thirteenth year, the Cause Marketing Halo Awards are North America's highest honor in the field of cause marketing. They are awarded by the Cause Marketing Forum, a Rye, N.Y.-based company that provides business and nonprofit executives with the practical information and connections they need to succeed. Descriptions of all the Cause Marketing Halo Award winners can be found online at www.CauseMarketingForum.com/halo2015. 
About Kapiolani Medical Center for Women & Children

Kapiolani Medical Center for Women & Children is well recognized as Hawaii's leader in the care of women, infants and children. With 207 beds, the not-for-profit hospital is Hawaii's only maternity, newborn and pediatric specialty hospital. It delivers 6,000 babies a year and is also a tertiary care, medical teaching and research facility. Specialty services for patients throughout Hawaii and the Pacific Region include intensive care for infants and children, 24-hour emergency pediatric care, maternal fetal medicine, and high-risk perinatal care. More than 1,500 employees and more than 630 physicians provide specialty care at Kapiolani Medical Center. The hospital is home to Kapiolani Women's Center and the Women's Cancer Center – the state's only dedicated breast health and gynecological cancer centers. Kapiolani offers numerous community programs and services, such as the Kapiolani Child Protection Center and Sex Abuse Treatment Center. Kapiolani is an affiliate of Hawaii Pacific Health, the state's largest health care provider. Learn more at kapiolani.org.
About Children's Miracle Network Hospitals
Children's Miracle Network Hospitals® raises funds and awareness for 170 member hospitals that provide 32 million treatments each year to kids across the U.S. and Canada. Donations stay local to fund critical treatments and healthcare services, pediatric medical equipment and charitable care. Since 1983, Children's Miracle Network Hospitals has raised more than $5 billion, most of it $1 at a time through the charity's Miracle Balloon icon. Its various fundraising partners and programs support the nonprofit's mission to save and improve the lives of as many children as possible. Find out why children's hospitals need community support, identify your member hospital and learn how you can Put Your Money Where the Miracles Are, at CMNHospitals.org and facebook.com/CMNHospitals.