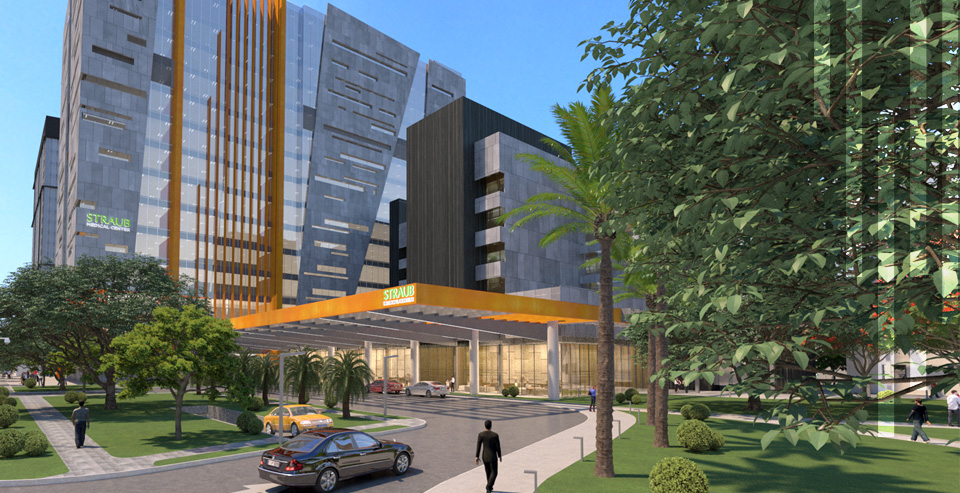 Straub Medical Center:
A Health Care Campus of the Future
The new Straub Medical Center will be a four-phase redevelopment project designed to address the health care needs of Hawaii for generations to come. The 15-year plan will create a health care campus of the future that will reflect the not-for-profit organization's vision to transform health care by providing the space, tools and resources necessary to impact all aspects of patient health – prevention, treatment, access and affordability.
Straub's future health care campus will nearly triple the existing size to 760,000 square feet and will be a multi-year project.
2021-2026
Parking and Conference Center
2025-2031
Flagship Medical Center Development
2031-2033
Grand Entrance and Garden
2032-2036
Modernization of Historical Building and Existing Hospital
Phase 1: Parking and Conference Center
More Parking, More Amenities and More Convenience, 2021-2026
Phase 1 will begin with clearing space for the building of the new parking garage and conference center along Kealamakai Street between South Hotel and South King streets.
Increased parking: A new parking garage with more than triple the number of stalls will be replacing the existing parking structure at Straub Medical Center.
Meeting and conference center: The rooftop will incorporate a conference center, providing care teams a state-of-the-art facility to meet in person and virtually allowing for close collaboration in patient care.
Rooftop garden and green space: A beautiful, rooftop garden will be open to patients and employees to provide a healing outdoor environment.
Employee wellness: An on-site fitness center will promote employee wellness.
A more 'green' facility: The buildings throughout the campus, including the parking garage, will be outfitted with solar panels to create a more environmentally-friendly facility.
Phase 2: Flagship Medical Center Development
A Medical Facility Like No Other, 2025-2031
Phase 2 will begin with the building of a new 16-story hospital tower and low-rise structure with a second rooftop garden. The new tower will include an expanded Emergency Department, larger patient rooms and more space to provide exceptional quality care.
More space: A new medical center building that is more spacious and flexible, with larger patient and operating rooms, as well as additional space for the Emergency Department. Space for complex care and chronic disease prevention programs that include comprehensive education and coordination of care.
More efficient care: Increased efficiencies aided by the addition of new equipment and clinical technologies that will support quality patient care and result in shorter hospital stays and lower patient costs.
Innovative approach: Team-based care settings with telehealth rooms to provide patients with multiple alternative methods of care, which will increase access.
Innovative, flexible spaces: We will be building innovative spaces that can be adapted to emergency situations where more patient rooms are needed and can evolve as the needs of our community changes.
Elevated glass walkway: We are creating an elevated glass walkway from the parking garage to the hospital to allow easier access to the facility as well as to preserve mauka (mountain) views for our neighbors.
Phase 3: Grand Entrance and Garden
More Expansive Green Space, 2031-2033
Phase 3 will focus on further beautifying our community by adding more open green space to urban Honolulu.
New garden spaces: We will be replacing the Palma, Milnor and Makai clinic buildings with significant green space and landscaping. The removal of the buildings on the corner of South King Street and Ward Avenue will allow for more open views from Thomas Square.
Improved traffic flow: The porte cochere will be completely redesigned with the patient in mind to provide easy access to the hospital entrance and valet services.
Phase 4: Modernization of Historical Building and Existing Hospital
Preserving Hawaii's history and preparing for its future, 2032-2036
The final phase of the Straub Redevelopment project will begin with the renovation of the existing hospital and Strode building. The historic Strode Building, which has been at this site since 1933, will be restored in an adaptive way and remain an important part of Straub's century-long legacy.