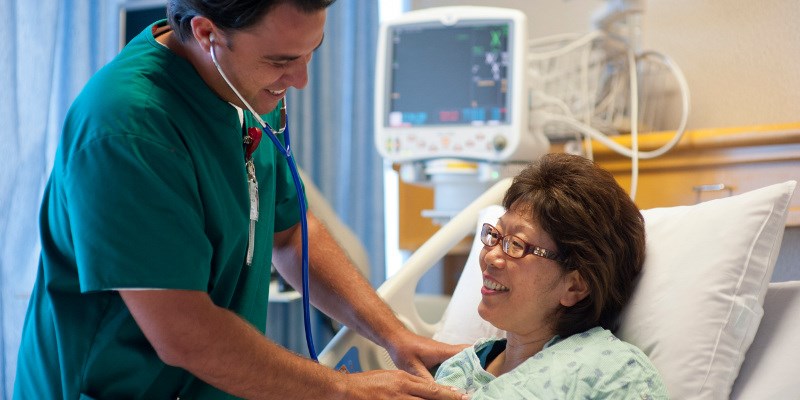 Our commitment to you…
Pali Momi Medical Center is dedicated to providing exceptional medical care for each of our patients in a safe and comfortable environment. We strive to continuously improve the delivery and coordination of that care. Pali Momi has also been recognized by a number of organizations including Medicare and the American Heart Association, for providing excellent patient care.
Effective Monday, May 15, 2023
HPH will no longer require masks to be worn by patients, visitors and staff, except in designated patient care areas. Anyone who wishes to wear a mask is encouraged to do so.
See our Patient and Visitor Policy
---
 

Dining Experience

Hauoli Court Dining Room 

Our Dining Room is open from 6 a.m. to 9 p.m. It is located on the first floor and serves hot meals during the hours listed below.

Breakfast: 6 a.m. to 10 a.m.
Lunch/Dinner: 11 a.m. to 9 p.m.
Grill is closed Sundays and holidays.

Hookipa Café
Our coffee kiosk serves Starbucks® coffee and snacks, Monday through Friday from 6 a.m. to 4 p.m., closed on weekends and holidays.

Room Service
Our restaurant-style menu offers you variety and the ability to control what and when you eat. Food is delivered fresh to order by our personalized customer service ambassadors. 

Entertainment

As a patient at Pali Momi Medical Center, you can expect an array of entertainment options during their stay, including:

24-hour a day telephone and television services

Free wireless internet access

Patient Connection Entertainment
Our television-based Patient Information & Entertainment system is your link to the information and support you need, anytime of the day. All you need is your television remote control to gain immediate access to:

Welcome
Patient Guide
Guide for Families
Hospital Directory
Meet Hospital Team
Health Videos & Classes

 

Family-Friendly Environment

Visiting Hours and Guidelines
Your family and friends are an important part of your recovery so we've set flexible hours every day from 9 a.m. to 8:30 p.m. when they are welcome to visit you.

Children 12 and under must be accompanied by an adult at all times. Please respect the privacy of others and keep noise to a minimum.

Public Parking Garage
Entrance is located off of Haukapila Road or Moanalua Road. Open 24 hours/7 days a week.

Hui Car

Hawaii Pacific Health has joined the Hui car share network as its health care mobility partner! Two cars are available in the Pali Momi Medical Center parking garage to patients, families, residents from the surrounding community for personal use (fees apply). Learn more.

Caring Bridge
Caring Bridge offers free, personalized websites for patients, allowing family members and friends to share and receive online updates. For more information or to create a website, visit caringbridge.org.

Chapel
A chaplain can be called for your spiritual needs. Our chapel, offers a contemplative setting for prayer or meditation. It is located on the second floor and is open 24 hours a day. More information about spiritual care at Pali Momi .

 

 

Additional Services

Gift Shop
We have a various selection of flowers, balloons and stuffed animals, located on the the first floor. Gift Shop hours are: 
Monday through Friday from 9 a.m. to 3 p.m.
Closed Saturdays and Sundays
Phone: (808) 485-4477

ATM Machine
For your convenience, there is an ATM machine located on the first floor next to the pharmacy.

Pharmacy
For the convenience of our patients and their family and friends, an outpatient pharmacy operated by Pharmacare is located on the first floor to fill your prescription and over-the-counter medication needs.

Patient Relations Coordinators
Patient Relations Coordinators are available to ensure your visit with us is as smooth and comfortable as possible. 

Clean and Safe Environment
Housekeeping will keep your room clean and sanitized, and hospital staff will clean their hands with hand gel or wash with soap and water before touching you. Housekeeping service is available 24/7.

Mailboxes
Mailboxes are located on the first floor outside the Gift Court. Mail is picked up at 10 a.m. and 4 p.m., Monday through Friday, and at 10 a.m. on Saturday.

MyChart Patient Portal
MyChart is a quick, convenient and free way to manage your health, message your doctor, and pay your bills online. Learn More. 

CareEverywhere
CareEverywhere allows your health information to be electronically shared between healthcare providers for treatment purposes. To learn more about CareEverywhere, including opt-out options, click here.