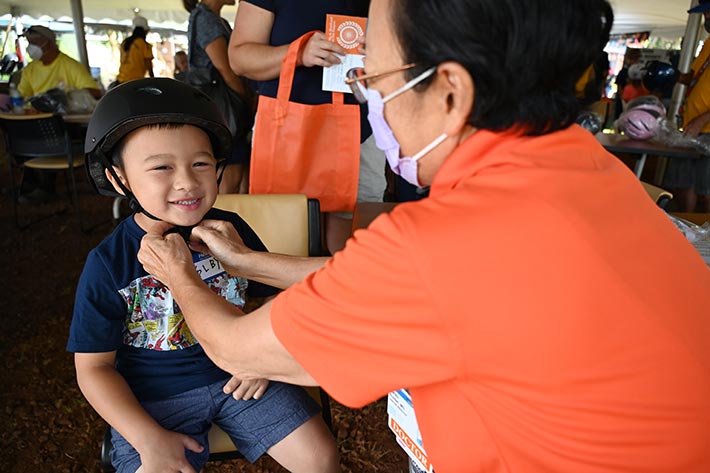 Keiki, their families and Kauai community members gathered at Wilcox Medical Center Saturday, Aug. 13 for the return of Keiki Bike & Skateboard Safety Day.
More than 300 participants attended the free safety education event, which took place in the medical center's back parking lot following a two-year absence due to the COVID-19 pandemic.
"We were thrilled to see so many happy families and community members at Wilcox for Keiki Bike & Skateboard Safety Day," said Jen Chahanovich, president and CEO of Wilcox Medical Center and CEO of Kauai Medical Clinic. "Our mission to create a healthier Hawaii extends beyond the walls of the medical center. Wilcox is the only trauma center on Kauai, and our team wants to do more than respond to emergencies – we also want to help prevent injuries. This family-friendly event allows us to share valuable safety information while encouraging keiki to be active."
Held in partnership with several community organizations, the 2022 Keiki Bike & Skateboard Safety Day included a number of educational, hands-on activities. Among the highlights were:
A bicycle skills enhancement course led by Kauai Path;
A skateboard skills enhancement course with Kauai Skate Ohana;
A bike safety inspection station provided by AlohaCare; and
A helmet fit station where Wilcox staff helped keiki find the right size dual-certified helmet – that kids then got to take home!
"Children's heads grow really rapidly, especially in the first three to four years of life, so you have to fit the helmet properly for the individual," said Dr. Robert Wotring, section chief of pediatrics at Kauai Medical Clinic.
Other safety and activity booths were manned by Big Brothers Big Sisters Hawaii, Hawaii State Department of Health, Hawaii Life Flight, Hale Opio Kauai Inc., Kauai Police Department, Keiki to Career Kauai and LifeSave KuPono.
Families stayed fueled with fresh fruit smoothies made with the Wilcox Health blender bike.
The biggest draws of the day were giveaways of 32 bicycles and 30 skateboards donated by generous community members.
"It's really just been an awesome day and everybody is really stoked and excited," said Danita Narciso, whose daughter Olivia won a bike during one of the multiple morning drawings. "We got to the bike, and it was donated by the physician who delivered my first daughter. It's really special this being the first time we won and that it was donated by Dr. Carol Fujiyoshi. It's really special."
"It takes a village to raise a child," said Kauai County Mayor Derek Kawakami, who personally donated a bike with his wife, Monica. "When you see how many volunteers have come out to support our keiki and support our families, to encourage them to be healthy, make healthy choices, get active and jump on a bike, get on a skateboard, and they're getting all the safety lessons that they need – there's no place I'd rather be.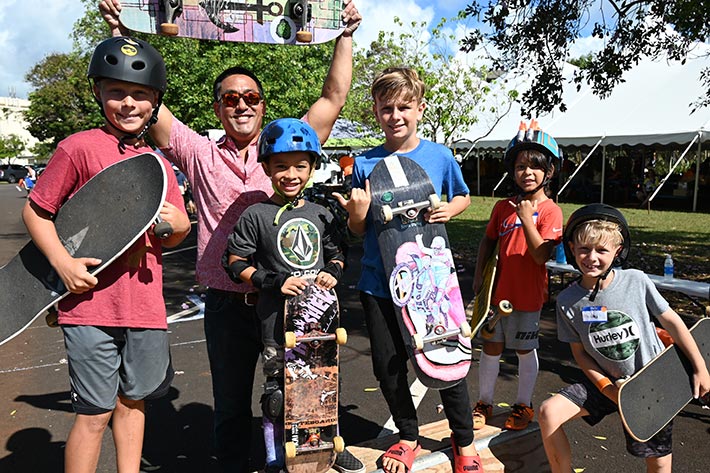 "For many of us, this is more than a hospital," Kawakami added. "Wilcox Medical Center puts on events like this and goes above and beyond what anybody would expect from a health care system. Big mahalo to Wilcox and all of the many, many partners."
Top photo: Dr. Noriko Hunter, an internal medicine physician at Kauai Medical Clinic's Kapaa Clinic, makes sure a child's helmet fits correctly during the 2022 Keiki Bike & Skateboard Safety Day.
Bottom photo: Kauai County Mayor Derek Kawakami joins keiki on the skateboard skills enhancement course, led by Kauai Skate Ohana.
Video: Wilcox Medical Center Hosts Hundreds for the Return of Keiki Bike & Skateboard Safety Day