Kapiolani Medical Center for Women and Children is the only health center in the State of Hawaii that offers comprehensive cardiac services to children and young adults with heart problems and congenital heart defects. Our dedicated and highly trained pediatric cardiologists provide exceptional, world-class cardiac care. Kapiolani's Congenital Heart Center exists so that children and adults with congenital heart disease have a medical place to call home in Hawaii.
---
SERVICE HIGHLIGHTS
Our pediatric cardiologists deliver:
 Prenatal consultations

Intensive care support of life-threatening heart conditions

Cardiac imaging procedures

Treatment of all sorts of congenital heart defects and arrhythmias

Interventional cardiac catheterizations

Treatment of adults with congenital heart defects
Pediatric Heart Center and Cardiac Catheterization Laboratory
Kapiolani Medical Center for Women & Children has expanded care for Hawaii's children and families with its new comprehensive Pediatric Heart Center, opened in 2023.
In the past, children with heart disease often had to travel more than 2,500 miles to the next full-service specialty children's hospital on the U.S. mainland. This can be expensive and challenging for medically fragile patients. In many cases, it also means separating families for weeks or months as one or both caretakers need to remain in Hawaii work or to care for other young children.
The new Pediatric Heart Center means Kapiolani can provide even more lifesaving surgeries and procedures for its youngest patients year-round, here at home.
The Kapiolani Pediatric Heart Center includes the first pediatric cardiac catheterization laboratory in the state. This allows our team of physicians, surgeons, nurses and other experts broader diagnostic capabilities and the ability to fix some cardiac conditions without open-heart surgery.
Treating Congenital Heart Disease at All Ages
Did you know that congenital heart defects occur in 1% of children, making them the most common birth defects? But their prevalence doesn't make it any easier when they afflict someone you love. That's why our highly trained pediatric cardiologists are there to support you and yours.
Prenatal consultation 
Expecting a baby with a congenital heart disease? Our team will help you build a comprehensive plan to treat your newborn from the moment of birth—and throughout their life.
CCHD screening 
Every baby born in our hospital is screened to detect heart defects with our state-of-the-art oximetry screening.
Pediatric heart surgeries
Providing exceptional heart surgery to children and young adults is what our congenital heart team is known for, and does best.
Catheterizations
Our pediatric cardiologist performed the very first pulmonary valve replacement via cardiac catheterization in Hawaii. These highly technical procedures are used both to diagnose and treat, often providing a safer alternative to higher risk heart surgeries.
Adult Congenital Heart Disease
Babies born with congenital heart defects grow up to be adults. That's why our center was the first to treat adults with congenital heart defects in Hawaii, and is the only center with board certified Adult Congenital Heart Disease specialists in the entire State of Hawaii.
Arrhythmias in Children
Electrical disorders of the heart can be confusing. This is because, while the heart itself may be healthy, the "wiring" can be off—similar to the systems in a house. If your child is born with, or develops such a disorder, remember one thing. Diagnosing and treating these disorders in children is our expertise. So you've come to the right place.
Inherited arrhythmia syndromes
Our collaborative team offers a full range of services for patients with inherited arrhythmia syndromes. We use cutting-edge technology to detect any and all potentially life threatening arrhythmia conditions and offer a wide variety of treatment options.
UH athletic screening
Since 2014, our cardiac screening program has been keeping young athletes competing for the University of Hawaii healthy and safe. Our team is uniquely equipped to spot potentially life threatening conditions with the goal of preventing tragic outcomes.
Life Threatening Heart Conditions
So many conditions affect the cardiac function in children. But regardless of the cause, our center is equipped to provide expert treatment such as specialized medications, temporary cardiac pacing and circulatory support, just to name a few.
Cardiac pacing 
Something as ordinary as a viral infection may damage the heart's tissues and cause it to stop beating. This is where our expertise in temporary pacing and permanent pacemaker placement really shines. Our team of pediatric cardiologists and heart surgeons are the best in the State.
ECMO (extra-corporeal membrane oxygenation) support 
ECMO is a state-of-the-art system that provides heart-lung bypass support outside of a baby's body during heart failure. Our expert team uses this technique, and other equally sophisticated protocols, to help ensure that children in critical cardiac conditions survive and thrive.
Cardiac intensive care
Without our team of cardiac anesthesiologists, intensivists and cardiologists, cardiac surgeries wouldn't be possible. Our intensive care specialists take the best possible care of each child (and adult) as they recover from whatever heart surgery they've had in our hospital.
Kawasaki Disease
A very common acquired heart affliction in children, Kawasaki disease is one of our key areas of medical expertise. Collaboration between leading experts in the fields of infectious diseases and cardiology means that your child's treatment will be safe, comprehensive and effective unlike anywhere else.
Excellence in Research
Thanks to funds from prestigious institutions such as the National Institute of Health and the American Heart Association, cutting-edge research drives every decision we make about the care we provide.
Notable examples include:
Our design and development of a clinical trial in Kawasaki disease to treat coronary artery dilation

Our development of novel standards for ECG reading, which may revolutionize how we assess ECGs and how we screen patients

Our participation in worldwide studies on inherited arrhythmia syndromes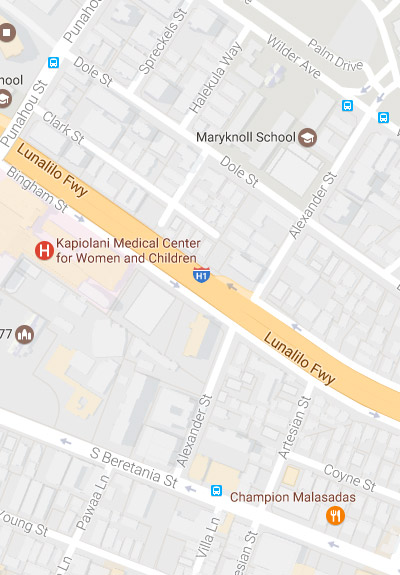 MEDICAL CENTER INFORMATION
Kapiolani Medical Center for Women & Children
Physician Tower, Suite 1010
1319 Punahou St., Honolulu, HI 96826
808-983-6000
Directions
Office Hours
Everyday: 8 a.m.-4:30 p.m.
Public Parking Garage
Entrance is located off of Bingham Street.


Valet Parking
Entrance is located off of Bingham Street
in the patient drop-off zone.
Monday-Friday: 8 a.m.-4:30 p.m.,
closed weekends.