Available at the following centers:
Kapiolani Wilcox
---
Pregnancy is a time of great joy, and a time when your expectations turn to doing what's best for your baby. For decades, pregnant women have entrusted their health care needs to our medical centers. Offering the most comprehensive maternity and newborn care in the Pacific Region, our medical centers have been synonymous with quality care for generations of Hawaii's families.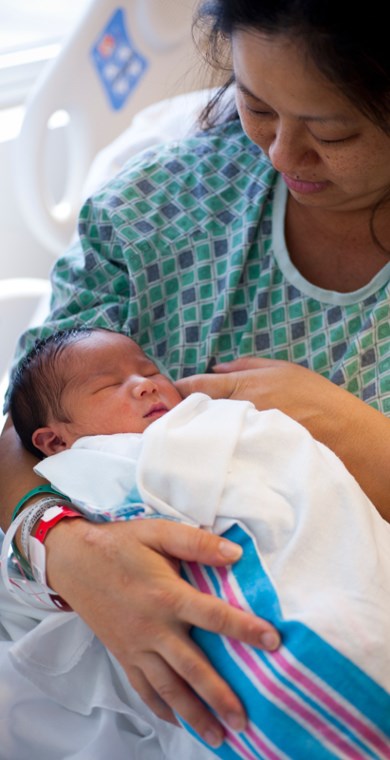 Services We Provide
Delivery and Recovery
Kapiolani Medical Center for Women & Children and Wilcox Medical Center on Kauai have been the medical centers of choice for generations of women in Hawaii.
At our medical centers, labor, delivery and recovery take place in one comfortable suite. Our private labor suites feature a birthing bed, television and your own private bathroom with shower. Each suite has the latest birthing equipment needed – even for high-risk situations – with a surgical suite nearby for cesarean birth.
To enrich your experience, you will have a labor nurse to care for you throughout labor and delivery. Your infant will be banded with an ID band that matches yours immediately after delivery. Our dedicated professionals will provide skillful nursing care, blended with helpful suggestions, to get your relationship with your new baby off to a great start.
After delivery, you will stay in a private post-partum room with your baby. Rooming-in helps prepare you for your mothering role. By having your baby stay in your room, you will become familiar with your baby's personal rhythms and bond through touching and cuddling. You also will enjoy the peace of mind that comes with knowing your new loved one is close at hand.
New mothers may receive a 24-hour follow-up call from a nurse to answer questions and provide support. A lactation consultant is available for those mothers who opt to breastfeed their baby and may require additional assistance.
At-Home Resources
Your body will go through many changes after having a baby. Some of these changes, such as cramping, breast engorgement and constipation, may be uncomfortable but are completely normal. It's important to understand what to expect and how to take care of yourself during this time.
Your doctor will want to see you in six weeks post-partum. Until then, we hope you find this information helpful.