Available at the following centers:
Kapiolani Pali Momi Wilcox
---
On August 1, 2018, the Fetal Diagnostic Center moved the University Health Partners (UHP) maternal fetal medicine physicians' high-risk OB clinic practice into the Fetal Diagnostic Center at Kapiolani Medical Center.
This new collaboration will enhance services to our community by providing comprehensive clinic visits and care coordination for pregnant women with medical and obstetrical complications while optimizing neonatal outcomes.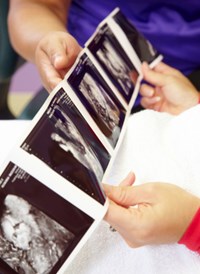 Wherever you choose to go within our family of Hawaii Pacific Health Women's Centers, you can be sure that our team of maternal-fetal medicine specialists, sonographers, genetic counselors, clinical nurses, and certified diabetic educators is dedicated to helping you deliver the healthiest baby possible. We are accredited by the American Institute of Ultrasound in Medicine (AIUM) in obstetric and gynecologic ultrasound, and the only practice in Hawaii that is accredited in fetal echocardiography.
Our maternal fetal medicine physicians specialize in high-risk care for both the mother and the fetus, and provide comprehensive diagnostic tests and management for high-risk pregnancies, as well as screening and testing for expectant mothers at risk for complications. 
Services at Kapiolani include:
First trimester ultrasound
Growth ultrasound
Third trimester follow-up ultrasound
Detailed obstetrical ultrasound
Cervical length assessment
Screening anatomy ultrasound
Nuchal translucency measurement
Fetuses with birth defects, infections, anemias, and other unusual problems
Pregnancy with twins, triplets, and other multiple gestations
Fetal echocardiography (ultrasound of the heart) to detect and diagnose fetal cardiac anomalies
Fetal Doppler ultrasound
Pregnancy loss and stillbirth
Pre-term labor for the mother
Non-Stress Test (NST's)
Biophysical profile
Diabetes and gestational diabetes
Hypertension/pre-eclampsia
Women with heart defects
Genetic Counseling
High-Risk Obstetrical Care
Maternal Fetal Medicine Consultations
Click here to download the Fetal Diagnostic Center Order/Referral Form >>
Services at Pali Momi include:
Screening anatomy ultrasound

Detailed obstetrical ultrasound

First trimester ultrasound

Third trimester follow-up ultrasound

Growth ultrasound

Cervical length assessment

Nuchal translucency measurement

Biophysical profile

Fetal Doppler ultrasound 

            
In addition, at Kapiolani, we perform testing and procedures for prenatal screening such as non-invasive prenatal testing, amniocentesis and chorionic villus sampling with specialized genetic counselors. Our high-risk team of doctors and genetic counselors are here to discuss testing options and results with you.
For Kapiolani, call: 808-983-8559
For Pali Momi, call: 808-535-7733
For Wilcox, call: 808-245-1030
Obstetrical ultrasound services are available at Kapiolani, Wilcox and also five days a week at the Pali Momi Women's Center.  Any abnormalities detected at Wilcox or Pali Momi Medical Centers are then referred to Kapiolani Medical Center for world-class perinatal and neonatal intensive care.