We specialize in providing caring, coordinated and comprehensive health services to women of all ages. From breast health and well-woman care to pregnancy, heart health, cancer care, gastroenterology and senior needs, we recognize that women's bodies are different than men's – and their medical care should be as well. We strive to keep women healthy for life.
---
Women's Services at Pali Momi
Pali Momi Women's Center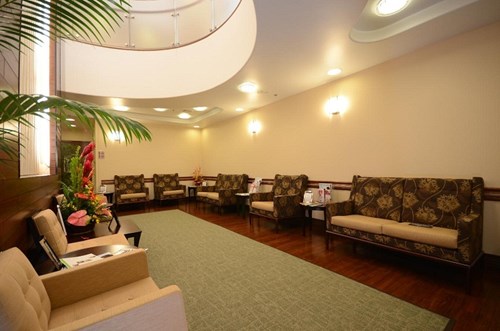 The Pali Momi Women's Center has grown to meet the needs of the Central and West Oahu communities.
Patients have come to depend on the Women's Center for regular check-ups and advanced breast health care. Conveniently located next to Pearlridge Center Uptown, the Center combines excellent care and patient safety, all in a relaxing, healing environment.
Breast health services
Digital 2D and 3D mammography (tomosynthesis breast imaging)
Computer aided detection (CAD) advanced analysis of images to help detect the presence of abnormalities
Non-surgical breast biopsy (stereotactic and ultrasound)
Breast ultrasound
Bone health program (Osteoporosis)
DEXA (hip and spine) scanning
Osteo-cise and structural strength classes (located at Pali Momi)
Free public information sessions
Additional services
Gynecology ultrasound
Patient Navigator – dedicated to supporting patients along their journey
Cancer support group
Free resource library
The Pali Momi Women's Center is located at the Pali Momi Medical Pavilion.
Osteoporosis Screening: 1-808-535-7733
Hui Malama Kakoo Cancer Support Group: 1-808-485-4548
---
OB-GYN Services
For the women of Central and West Oahu, Pali Momi offers an array of OB-GYN specialists that are conveniently located at Pali Momi. Its Ultrasound Program ensures that all exams are performed under the direct supervision and interpreted by our GYN ultrasound trained physicians.
Pali Momi offers GYN ultrasound for common conditions such as:
Abnormal bleeding
Irregular cycles
IUD complications
Leiomyoma
Postmenopausal bleeding
Polycystic ovaries
Other anomalies of the uterus
First trimester ultrasound
Breast ultrasound
Pali Momi is accredited by the American Institute of Ultrasound in Medicine (AIUM).
Physician Referral: 1-808-535-7733
Appointment line: 1-808-535-7000
---
This service is available at: Kapiolani Pali Momi Straub Wilcox