Pali Momi Heart Center has the largest and most experienced cardiac team in the area and the only interventional cardiac catheterization unit in Central and West O'ahu providing lifesaving treatment in emergencies. Our commitment to the latest treatment options and innovative technology make us a leader in cardiac care. Our highly trained cardiologists offer a depth of expertise across a range of cardiac conditions from coronary and structural heart disease to arrhythmias and heart failure. All heart surgical procedures are performed using minimally invasive techniques, offering less discomfort and a faster recovery.
---
Saving 100 minutes can save your life.
In the event of a heart attack, Pali Momi Medical Center's Interventional Cardiac Catheterization Unit brings lifesaving care 100 minutes closer to West and Central O'ahu residents. We can immediately perform angioplasty, stent placement and other critical procedures right at Pali Momi. The lifesaving treatment is provided without the delay of transport to a Honolulu-based hospital.
SERVICE HIGHLIGHTS
The Pali Momi Heart Center offers treatments and services for a wide range of heart conditions and diseases to improve the heart health of our patients, including for the following:
Cardiac Arrhythmia
Arrhythmias occur when there is a problem with the electrical system that is supposed to regulate a steady heartbeat. With an impaired electrical system, your heart may beat too fast, too slow or irregular
Coronary Artery Disease
Coronary artery disease (CAD) occurs when the arteries that bring blood to the heart muscle (coronary arteries) become hardened and narrowed. CAD is the most common type of heart disease and also may be known as coronary heart disease (CHD), heart disease and ischemic heart disease.


Heart Failure
The heart is a muscle that pumps oxygen-rich blood to all parts of the body. When you have heart failure, the heart is not able to pump as well as it should. Blood and fluid may back up into the lungs (congestive heart failure), and some parts of the body do not get enough oxygen-rich blood to work normally. These problems lead to the symptoms of heart failure.)


Management of Lower Extremity Peripheral Arterial Disease 


Structural Heart Disease
Structural heart disease is an umbrella term that encompasses the full scope of conditions caused by defects or abnormalities in the heart's valves, walls and/or muscle. Heart valve conditions are either congenital (present at birth) or can form later in life due to aging, infection or correlated underlying condition. When heart valves fail to open and close properly, the effects on the heart can be serious, possibly hampering the heart's ability to pump enough blood through the body. Heart valve problems are one cause of heart failure.
Diagnostic Services
Pali Momi's fully integrated interventional cardiac catheterization suite is equipped with the latest technology, providing advanced imaging capability to assist physicians in making a diagnosis. Diagnostic services include:
CardioMEMS Heart Failure System Implant
Unique to Pali Momi, this new technology helps monitor your heart after heart failure. During a minimally invasive procedure, the system uses wireless monitoring sensors to directly measure pulmonary artery pressure.
Electrophysiology Studies
Pali Momi conducts tests to better understand the nature of abnormal heart rhythms (arrhythmia) by testing the electrical activity of the heart. Results of these tests help determine whether a heart treatment will include medication, a pacemaker, an implantable cardioverter defibrillator (ICD), cardiac ablation or surgery.
Cardiac Magnetic Resonance Imaging (Cardiac MRI)
Our cardiologists evaluate patients with a wide-range of cardiac conditions by creating detailed images of the heart with a non-invasive imaging tool that uses a magnetic field, radio waves and a computer. The image acquisition, processing, and interpretation require a dedicated and well-trained.
Coronary Angiogram
Our cardiologists perform a minimally invasive procedure that allows access to coronary circulation and the chambers of the heart. A catheter is used to complete this procedure for both diagnostic and interventional treatment purposes.
Echocardiogram (ECHO), including Transesophageal Echocardiogram (TEE) 
Also known as a cardiac ECHO or simply an ECHO, this technology is used by our facility to take sonograms (pictures) of the heart to assess cardiac valve function and cardiac output.
Exercise Stress Testing
Our heart center uses various tests to measure how the heart responds to exertion in a controlled clinical environment. These tests typically involve walking on a treadmill at increasing levels of difficulty while your vital signs are monitored. Physicians perform treadmill stress tests as well as pharmacological stress tests and echo stress test.
Electrocardiogram (EKG)
Pali Momi uses electrocardiogram to measure the rate and regularity of your heartbeats. The EKG also tells our doctors the size and position of the chambers of your heart and if there is any damage present.
Cardiac CT scan
This diagnostic test uses a CT scanner, which creates a picture of your cardiac system or part of your system that helps our cardiologists to know if there are health related problems that require treatment.
Endovascular Intervention of Lower Extremity Arteries:
Our teams performs balloon angioplasty to restore blood flow through the artery and stent implantation to provide support inside your artery and reduce the likelihood of artery collapsing or re-narrowing after the procedure.
Arrhythmia Detection & Monitoring:
Our team monitors and detects arrhythmias using with the help of several different devices for accurate results including holter monitors, Ziopatch, loop recorders and 12-lead monitoring EKG.
Treatment for Heart Problems
Pali Momi Medical Center has the only interventional cardiac catheterization unit in Central and West Oahu, providing lifesaving treatment in emergencies. Our team is highly trained and experienced to assist with routine as well as the most complex procedures. Treatments we provide include:
Coronary Angioplasty (PCI)
Procedure used to treat narrowed coronary arteries of the heart, due to coronary heart disease.
Pacemaker Insertion
A pacemaker is a medical device that sends electrical impulses to your heart to help regulate your heartbeat. The pacemaker is inserted through a minimally invasive procedure and remains inside of you to ensure your heartbeat is steady.
AICD (Automatic Internal Cardioverter Defibrillator) Insertion
Similar to the pacemaker, the AICD is a medical device that helps your heart and is inserted using a minimally invasive procedure. However, instead of consistent steady regulation of your heartbeat, the AICD only sends electrical impulses when it detects a cardiac arrhythmia, or an irregularity in your heart beat.
Cardioversion
This procedure allows your doctor to change an abnormally fast heart rate or a cardiac arrhythmia to a normal heart rate. This can be done through either electrical stimulation or prescription medication administered at the hospital.
All surgical procedures are performed using minimally invasive techniques, where we eliminate the need for a large incision during surgery. This advanced technique offers patients less discomfort and a faster recovery.
---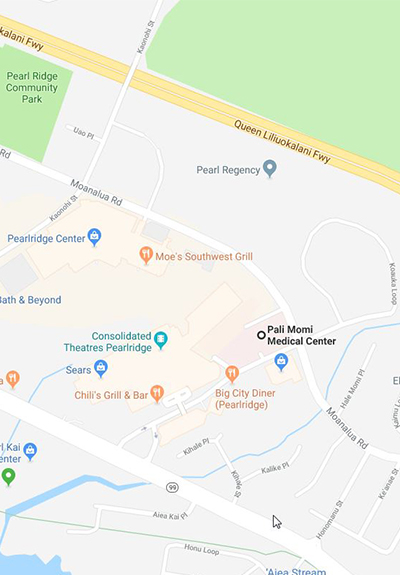 LOCATION INFORMATION
Pali Momi Medical Center
98-1079 Moanalua Road, Aiea, HI 96701
808-485-4553
Directions
Office Hours
Monday-Friday: 8:00 a.m. - 4:30 p.m.
Public Parking:
The Pali Momi Medical Center parking entrance is located off of Haukapila Road or Moanalua Road. Open 24 hours/7 days a week