As community members, health care providers have the potential to influence thousands, even millions of lives. Hawaii Pacific Health's Cancer Centers team members regularly lend their expertise in the community, making a difference beyond their practice at local, national and global levels.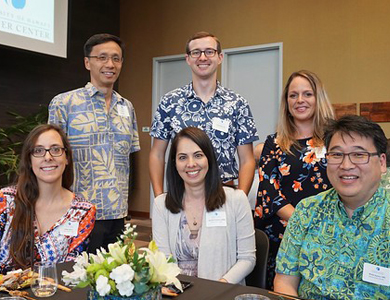 Hawaii Pacific Health Cancer Center team members were recognized at the ACCRUAL event
Several Hawaii Pacific Health Cancer Centers team members were recognized at the University of Hawaii Cancer Center's first Annual Cancer Clinical Research Accrual Leaders (ACCRUAL) event. Awards were presented for efforts that included reviewing clinical trial protocols, facilitating research to improve patient care and for successfully enrolling patients in clinical trials. Hawaii Pacific Health Cancer Centers participates in clinical trials as part of the Hawaii Cancer Consortium.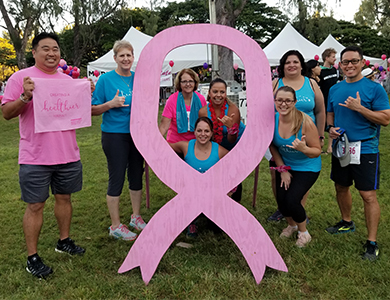 Supporting Breast Cancer Patients and Survivors at the Susan G. Komen Race for the Cure
Hawaii Pacific Health employees and their families gathered together for the annual Susan G. Komen Race for the Cure at Kapiolani Park in support of breast cancer patients and survivors. The Hawaii Pacific Health tent was full of prizes including pink rally towels, drawstring bags and fun mop-top pens that were given away to attendees who spun the Healthier wheel. Hawaii Pacific Health staff also were present at the Survivors Tent providing educational information to patients currently undergoing treatment. Many showed support by running, but all who attended were able to support a great cause!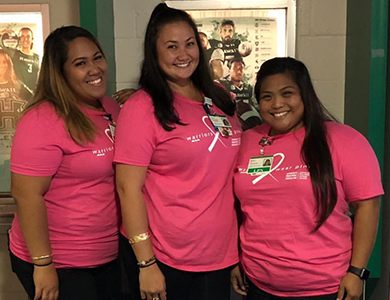 Supporting Cancer Awareness with Pink Out Nights
As a proud supporter and corporate partner of University of Hawaii athletics, Hawaii Pacific Health hosts regular "Pink Out Nights" where players, coaches, staff and attendees are all encouraged to wear pink in support of cancer awareness. All attendees also have the opportunity to write the name of a loved affected by cancer on a piece of paper to hold up during intermissions as a reminder that #WarriorsWearPink and that we stand together in the fight. By increasing cancer awareness in our community, these nights drive home the importance of getting regular screenings for early cancer detection.
UH Cancer Center Prostate Cancer Symposium
Dr. Charles Kim of Pali Momi Medical Center participated in the 5th Annual Prostate Cancer Forum hosted by the University of Hawaii Cancer Center in September. He was joined by local physicians who discussed the latest treatments, breakthroughs and strategies when dealing with the disease. The event also featured a Q&A session where Dr. Kim and other guest speakers were able to respond to specific questions from attendees. Dr. Kim is a board-certified urologist, medical director of robotic surgery at Pali Momi and an assistant clinical professor for the UH Cancer Center.
Photo Credit: University of Hawaii Cancer Center.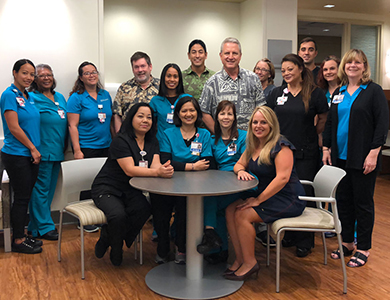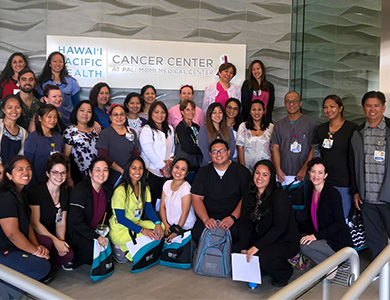 Nurses Celebrating Oncology Nursing Month by Completing Annual Competency Training
Oncology Nursing Month is a moment to thank the men and women who are there for patients throughout their cancer journey – from the moment of diagnosis, to the final days of treatment, oncology nurses are with patients to celebrate their victories but also to comfort them through the unimaginable. 
At Hawaii Pacific Health, nurses from all four medical centers – Kapiolani, Pali Momi, Straub and Wilcox – use this time to celebrate their profession in the best way possible – by completing their annual chemotherapy and biotherapy competency and training. 
"As our patients know, having a nurse who is knowledgeable and an expert in their abilities in providing cancer care makes all the difference," says Liz Wright, a registered nurse and director of oncology services at Hawaii Pacific Health.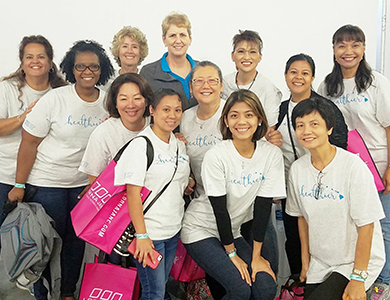 Great Aloha Run Sports, Health & Fitness Expo
Race participants of the Hawaii Pacific Health Great Aloha Run had the opportunity to meet physicians and other health care professionals of the Hawaii Pacific Health Cancer Centers during the GAR Sports, Health & Fitness Expo, held throughout President's Day weekend 2018. Along with tips for a healthier lifestyle, the Cancer Centers booth also offered giveaways, gifts and free skin cancer screenings.
Getting regular screenings for skin cancer is especially important in Hawaii, where many people enjoy an active, outdoor lifestyle and where there is sunshine year-round. By helping spot signs of skin cancer early, we are doing our part to create a healthier Hawaii.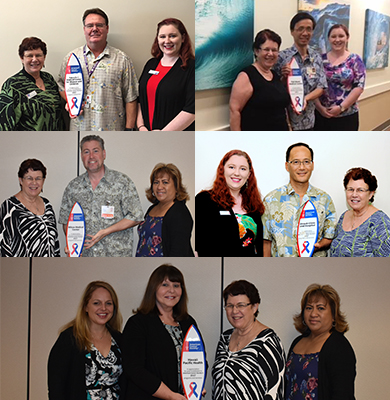 Getting Recognized by the American Cancer Society
Each year, the American Cancer Society (ACS) recognizes its community partners for supporting its mission to "save lives, celebrate lives and lead the fight for a world without cancer." In appreciation for its investment in ACS's 2017 programs and services, Hawaii Pacific Health and each of its four medical centers received a very unique award – a miniature surfboard, crafted like a real surfboard, with an inscription of thanks for Hawaii Pacific Health's longtime partnership that has enabled ACS to provide transportation and lodging to patients and caregivers throughout their cancer journey, as well resources for cancer prevention and screening to the community through health fairs and other sponsored events.
Pictured clockwise from upper-left corner: Representatives from Kapiolani Medical Center, Pali Momi Medical Center, Straub Medical Center, Hawaii Pacific Health and Wilcox Medical Center accept the award from the American Cancer Society for their support of ACS programs and services in 2017.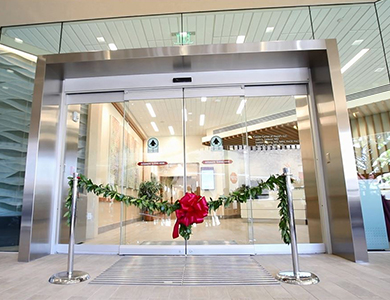 Pali Momi Opens Doors to First Comprehensive Cancer Center in Central & West Oahu
The new Hawaii Pacific Health Cancer Center at Pali Momi Medical Center opened on October 30, 2017 with a blessing ceremony and grand opening event attended by physicians and staff, community and construction partners, and government leaders. The 24,000-square-foot center will provide comprehensive and coordinated cancer care, including diagnosis, treatment and support services, in one convenient and centralized location for Central and West Oahu residents.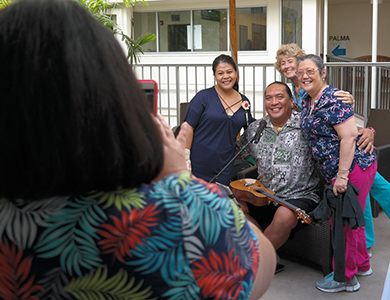 Healthier Survivors Celebration Honors Strength of the Human Spirit
As the sun slowly lowered in the early evening sky, the soft strums of Bruce Naluai's ukulele welcomed guests to the Straub Medical Center rotunda, which had been transformed into an outdoor oasis perfect for finding a seat to kick back, relax and talk story. 
This dreamy summer scene was the setting for the Hawaii Pacific Health Cancer Centers' first-ever Healthier Survivors Celebration, held June 26, 2017. 
It was a bittersweet reunion as patients reconnected with doctors, nurses and other members of their health care team, many of whom they hadn't seen since their last days of treatment.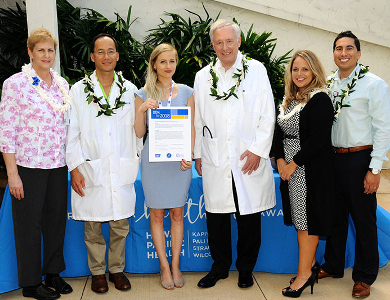 Straub Helps to Increase Colorectal Cancer Screening Rates
Straub Medical Center recently made the pledge to help increase colorectal cancer screening rates by supporting the "80% by 2018" initiative, led by the American Cancer Society (ACS), the Centers for Disease Control and Prevention (CDC) and the National Colorectal Cancer Roundtable (an organization co-founded by ACS and CDC). "80% by 2018" is a National Colorectal Cancer Roundtable (NCCRT) initiative in which more than 500 organizations have committed to substantially reducing colorectal cancer as a major public health problem, and are working toward the shared goal of 80 percent of adults ages 50 and older being regularly screened for colorectal cancer by 2018. 
UPDATE! Straub GIs Reach Goal, Screen 80-Plus Percent of Colorectal Patients
Pictured: Dr. Ian Okazaki, Straub oncologist (second from left), and Dr. Donald Saelinger, Straub gastroenterologist (fourth from left) signed the National Colorectal Cancer Roundtable's "80% by 2018" commitment pledge on behalf of Straub Medical Center. Joining them for the pledge signing were (from left) Tracey Hewitt, manager, Straub Oncology and Outpatient Treatment Center; Courtney Schwartz, health systems manager-hospitals, American Cancer Society; Liz Wright, director of Oncology Services, Hawai'i Pacific Health; and Julio Zamarripa, manager, Straub Gastroenterology Clinic.