Bone and joint care includes the diagnosis, treatment and rehabilitation of conditions, injuries and diseases of the musculoskeletal system including the joints, ligaments, tendons and nerves.
Bone and joint conditions may be treated by your doctor or other medical specialists and healthcare providers. Several doctors from different medical specialties may be involved in the treatment at the same time. This approach is important to manage the symptoms of an orthopedic condition, especially as many symptoms are chronic and change over time.
---
Bone & Joint at Straub
Straub Bone & Joint Center
Our multi-disciplinary bone and joint team provides expert care that spans surgical and non-surgical treatments and rehabilitation services. Whether we're healing a broken bone, replacing a hip, treating a strain or sprain, or treating gout, lupus or rheumatoid arthritis, we bring together clinical expertise and cutting-edge technology to ensure your best care.
  Call Straub Today:  (808) 522-4232  
---
A Leader in Bone & Joint
---
Helpful Resources
---
Community Involvement
Cass Nakasone's Teaching Tour of Japan
Cass Nakasone, MD, orthopedic surgeon at Straub Medical Center, was invited to be a guest surgeon at Hamamatsu University Hospital in Japan in October 2016. During his visit, he taught the staff about his technique regarding direct anterior approach total hip replacement utilizing the HANA table. In addition, Nakasone guided the surgeons on the use of the Tribute hip stem. The Tribute stem, which he co-designed, is a relatively new hip stem designed specifically to fit all femur types and to be easier to implant from an anterior approach.
While at Hamamatsu, Nakasone had the opportunity to take part in a hip replacement surgery with one of the hospital's top hip and knee replacement surgeons. The trip also afforded Nakasone a chance to learn more about the anterolateral supine approach for total hip replacement, which is more commonly used in Japan.
When asked to describe his biggest takeaway of the tour, Nakasone said "the most rewarding aspect of the trip was the chance to promote collegial fellowship and the exchange of ideas."
UH Football Down Under
In August 2016, the University of Hawaii football team traveled to Sydney, Australia, to take on the University of California Golden Bears for their season opener. It was a historic trip for the Rainbow Warriors who played outside the United States for the first time in school history.
Traveling with the team were Nick Crawford, MD, and Justin Young, MD, of Straub Medical Center and Jill Inouye, MD, head team physician for University of Hawaii Athletics.
Crawford is a volunteer physician for the UH football and men's basketball teams. He played college football for the University of Nevada with his brother, who went on to play for the Miami Dolphins. Crawford pursued a career in orthopedic surgery and chose to specialize in hip injuries because of the type of injuries his brother sustained playing professional football.
Crawford also serves as a team physician for the U.S. Ski Team and the Kailua High School football team, where he lives with his wife and daughter.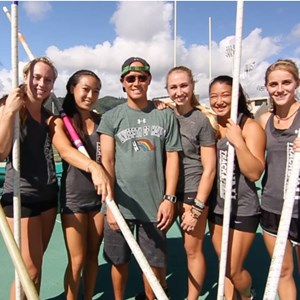 Helping UH Athletes Soar
Spencer Chang, MD, orthopedic surgeon at Straub Medical Center, has spent the past decade working with the University of Hawaii Athletics Department as a pole vault coach.
Under Chang's tutelage, three UH pole vaulters have qualified for the NCAA West Regionals, including three-time qualifier Jessica Custance. His athletes have also won seven Western Athletic Conference indoor and outdoor medals, and two of his athletes set the school's indoor (Jessica Custance - 12-6/3.86m) and outdoor (Patricia Gauthier - 13-3/4.06m) records.
From 1992-2000, Chang coached the pole vaulters at Iolani, his alma mater. He has produced an instructional pole vault video called "Vault 2000," and he has worked with the U.S. Track & Field Pole Vault Development Staff as a medical advisor since March 2002.
---
New Physicians 
Straub Welcomes Dr. Kiran Vadada
Dr. Vadada has joined the Straub family of bone and joint physicians. He is board certified in Physical Medicine & Rehabilitation with subspecialty certification in Sports Medicine.
For more information, click here, or to make an appointment, please call 808-522-4275.
New Rheumatologist Dr. Sian Yik Lim Joins the Team
We're proud to welcome Dr. Lim to the Straub Bone & Joint Center family. Dr. Lim is Board Certified in Internal Medicine and is a member of the American College of Rheumatology and the International Society for Clinical Densitometry. He is a clinical certified densitometrist and has published articles on gout, osteoporosis and arthritis in numerous international medical journals. Dr. Lim enjoys the outdoors, photography and traveling and is proficient in Chinese, Japanese and Malay languages.
For more information, click here, or to make an appointment, please call 808-522-4522. 
---
Conditions We Treat
Straub's physicians are fellowship-trained (additional medical training) in specific areas and together can offer surgical and non-surgical options to patients. Together, they provide patients with comprehensive orthopedic, sports medicine and rheumatology services to treat for the following conditions:
Hip and knee problems
Minimally Invasive Surgery
Hip & Femur Fractures
Hip & Knee Replacement
Hand, shoulder and elbow problems
Arthritis
Bursitis/Tendinitis
Capsulitis/Tight Shoulder
Carpal Tunnel Syndrome
Dislocation/Instability
Fractures
Frozen Shoulder
Rotator Cuff Problems
Strains/Sprains
Trigger Finger
Sports related problems
Achilles Tendonitis
ACL & Meniscus Tears
Ankle Sprains
Bursitis/Tendinitis
Fractures
Golfer's Elbow
Sports Related Injuries
Strains/Sprains
Swimmer's Shoulder
Tennis Elbow
Foot and ankle problems
Arthritis
Bunions/Hammertoes
Bursitis/Tendinitis
Flatfoot Deformities
Fractures
Plantar Faciitis
Running Injuries
Strains/Sprains
Neck and back problems
Degenerative Diseases
Herniated Discs
Osteoarthritis
Pinched Nerves
Sciatica
Strain/Sprains
Arthritis and Rheumatology problems
Gout/Pseudogout
Lupus/Vasculitis
Osteoarthritis
Osteoporosis
Rheumatoid Arthritis
Straub Bone & Joint Center: 1-808-522-4232
---
This service is available at: Kapiolani Pali Momi Straub Wilcox