A total hip replacement is a type of surgery that replaces your hip joint with an artificial one. Also called hip arthroplasty, hip replacement surgery replaces a damaged hip joint in order to ease pain and improve movement. Surgery can be performed from behind the hip, to the side of the hip, or from in front of the hip.
Total hip replacement with anterior approach refers to surgeries done from in front of the hip. These surgeries may also be called mini, modified, minimally invasive or muscle-sparing surgeries.
During the  total hip replacement surgery, an orthopedic surgeon will replace portions of your hip joint with artificial parts. The artificial hip can be made of metal or ceramic, or a combination of these two materials. The artificial hip may have a lining made of plastic, metal or ceramic.
Direct Anterior Approach
Using the anterior approach may allow your surgeon to do the  total hip replacement surgery through a smaller surgical cut (incision). Because the cut is made in the front of the hip rather than in the side or back, like in traditional hip replacements, having your surgery done this way may have other advantages, such as:
Less muscle trauma.
Less pain.
Earlier and easier recovery.
Less limping.
Shorter stay in medical center.
Decreased chance of hip dislocations.
Click here for more information about the surgery.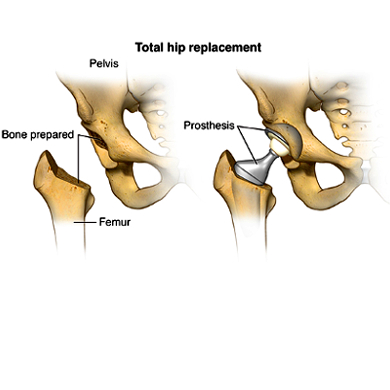 Services We Provide
Hawaii Pacific Health has well-developed programs for patients who are seeking a hip replacement. Straub Medical Center has three orthopedic surgeons who specialize in hip replacement surgeries. Wilcox Medical Center on Kauai also has three orthopedic surgeons who have expertise in hip replacements, drawing patients from over Kauai, the neighbor islands and other parts of the world.
Patients scheduled for hip replacement surgery are followed by a team every step of the way, from the decision to have surgery through the months after surgery, to ensure that the entire journey is well coordinated. Prior to surgery, patients and a family member or friend who will serve as their "coach" through this journey are invited to take part in an educational class. This class is designed to share information about the upcoming surgery and what to expect during each stage of recovery. Following surgery, patients can expect to return home in the evening or stay one night in the medical center. All patients return home with an appointment to follow up with the surgeon as well as an appointment for physical therapy. It is important to have a good plan for support at home after discharge and in the coming weeks, as ability to drive and do household chores may be limited.
If you suffer from significant pain and lack of normal motion in your hip, please contact your surgeon's office for an evaluation.
Contact Us
---
Hawaii Pacific Health Bone & Joint Center at Pali Momi Medical Center
Straub Orthopedics
Wilcox Bone & Joint Center