Available at the following centers:
Kapiolani Pali Momi Straub Wilcox
---
Annual mammograms are an important health exam for women over the age of 40, and Hawaii Pacific Health is pleased to be able to provide breast tomosynthesis, a new technology in breast mammography.
Tomosynthesis is different than traditional digital mammography. A digital mammogram of your breast takes a two-dimensional photo of your breast. With tomosynthesis a series of images from multiple angles are taken and converted into a three-dimensional image.
These images are then reconstructed into slices and the series of images can be viewed individually or as an image of the whole breast. This allows our radiologists to get a more complete picture of the breast tissue, giving them improved visibility of lesions, increased ability to size and stage masses, improved visualization and detection in women with dense breasts, and reducing callbacks.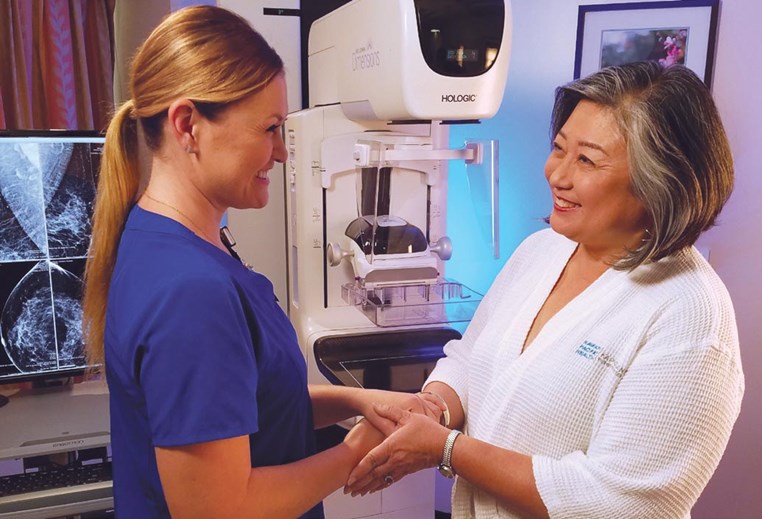 Services We Provide
We're proud to offer breast tomosynthesis in all of our Women's Centers
If you feel breast tomosynthesis is right for you, please call us today to schedule your appointment. Tomosynthesis is conveniently available at our three Women's Centers and Straub Medical Center.
Breast Tomosynthesis Clinic Studies Have Shown:
Improved lesion visibility over traditional mammography.
A reduction in patient callbacks for additional images.
Increased ability to identify size and stage of masses.
Improved visualization and detection of masses and
lesions in women with dense breasts.
---

Frequently Asked Questions
What is tomosynthesis (tomo)?
Tomo is a mammogram that takes images with a rotating x-ray beam. The images are processed by a computer in an attempt to remove overlapping tissues.
Tomo was approved by the U.S. FDA in February 2011, but has been previously used in other countries for a number of years.
Tomo is currently used in combination with a standard 2-D mammogram, so during your appointment you may get a standard 2-D mammogram plus tomo.
How long will it take?
About 8 seconds longer per image taken than a standard 2-D mammogram.
What is the radiation dose?
The radiation from a series of tomosynthesis images is about equal to a standard 2-D digital mammogram. Since both a standard 2-D mammogram and tomosynthesis would be performed, your radiation dose is approximately double that of a standard 2-D mammogram alone. Together, the dose is still within acceptable radiation limits and is FDA approved.
Will tomo catch all breast cancer?
No. Tomo has its limitations and can still miss masses/cancers. But clinical research suggests that tomo finds more cancers than a standard 2-D mammogram and reduces screening mammogram callbacks.
Who should get tomo? Is tomo right for me?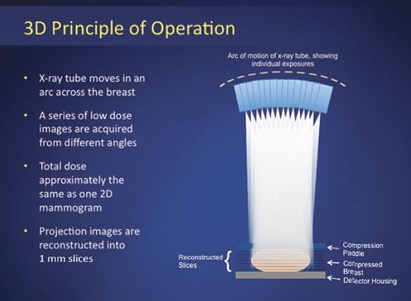 Currently, there are no national guidelines.
Benefits of tomo must be weighed against the additional
radiation and costs involved.
Patients with the following may benefit most from tomo:
Dense breasts.
Strong family history of breast cancer.
Breast lump felt by my doctor or myself.
Personal history of breast cancer.
First (baseline) mammogram.
Patients with the following may not benefit significantly
from tomo:
Fatty or "average" density breasts.
Breast implants.
No strong family history or personal history of breast cancer.
Strong desire to minimize her radiation exposure.
Is tomo covered by insurance?
Tomo services may not be covered by some Hawaii private insurers and Medicare. Please contact your insurance plan directly to see if you have coverage for tomo. You can find your insurance provider's phone number on the back of your insurance card.
At your appointment, you may need to fill out additional forms related to the tomo services provided.
Contact Us
---
Kapiolani
Pali Momi
Straub
Wilcox