In 1977, a group of female runners decided that it was due time for an all-women's run in Hawaii. With lots of enthusiasm and a love of running, the group launched the inaugural Hawaii Women's 10K.
They settled on a scenic route that started at Kapiolani Park and traveled around Diamond Head and through Kahala before returning to the iconic park. More than 1,500 women participated in that first event, signaling the start of something greater than the original group could ever imagine.
Though the name of the race has changed throughout the years, the enthusiasm of its participants and support of women's health in the state has never wavered. As co-founder Mimi Beams put it, the race is all in the name of "women empowering women."
Since 2011, the race has been called the Hawaii Pacific Health Women's 10K. Known as Hawaii's premier all-women's running event, this 6.2-mile race brings together mothers and daughters, friends and sisters, students, military and visitors in celebration of fitness and good health. It was founded as, and continues to be, the only all-female sanctioned race in Hawaii.
In 2018, a 5K Fun Run and virtual race option were added, providing more opportunities for women of all ages and athletic abilities to participate in this island tradition. Hawaii Pacific Health proudly offers the event each year with the support of hundreds of volunteers and community partners as part of its mission to create a healthier Hawaii.
Since 2022, the HPH Women's 10K & 5K Fun Run has been held in honor of Martha B. Smith.
About Martha B. Smith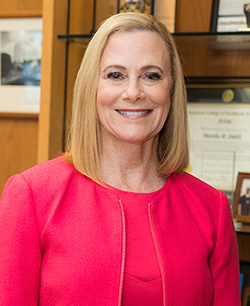 Martha B. Smith, best known for her decades of service as the top executive at Kapiolani Medical Center for Women & Children, was a strident supporter of the Hawaii Pacific Health Women's 10K & 5K Fun Run. Martha is remembered for her commitment and passion for serving Hawaii's families.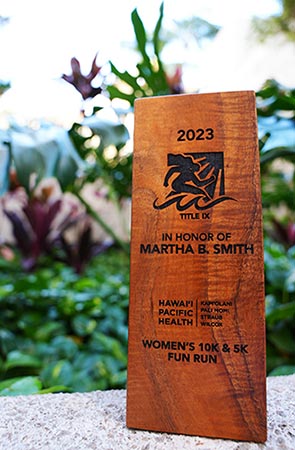 Martha set new standards for excellence throughout her career at Hawaii Pacific Health that spanned more than 30 years. She served as executive vice president of Oahu operations as the CEO of Kapiolani Medical Center for Women & Children, Pali Momi Medical Center and Straub Medical Center. Her dedication to the patients she served was apparent in everything she did, especially in her work with the state's youngest patients.
Whether it was making time in her schedule to present a big check to children who raised $10 for Kapiolani or leading her team in the construction and development of the Diamond Head Tower, Martha was a respected leader throughout both the health care industry and the Hawaii community.
Martha was driven and committed in all her actions, including her support of the Hawaii Pacific Health Women's 10K & 5K Fun Run, which she ran regularly. She was also a strong advocate for encouraging women to maintain an active lifestyle.
In 2023, the Martha B. Smith Award was created. Made of solid koa, the award emphasizes strength, endurance and elegance – ideals upheld by Martha and the women of Hawaii who run, walk and move in support of their health and well-being.
The Martha B. Smith Award is awarded to the top finisher in the HPH Employee division.
We welcome you to learn more about Martha and make a contribution in her memory through the Kapiolani Health Foundation.