At Kapiolani we provide comprehensive non-surgical and surgical care for children and teens with spinal disorders.
As Hawaii's full-service children's hospital, we have the resources and expertise to provide safe and effective care. Our multi-disciplinary team consists of both non-operative specialists in Pediatric and Adolescent Sports Medicine and Pediatric Orthopedic Surgeons. We first focus on non-surgical care including physical therapy, orthotics (brace treatment), and Mehta casting for early-onset scoliosis. If non-operative treatments are not enough, our surgeons are experienced in the latest techniques in spinal deformity care including corrective spinal fusion, anterior vertebral body tethering (VBT), and Magnetically Expandable growing rods (MAGEC rods).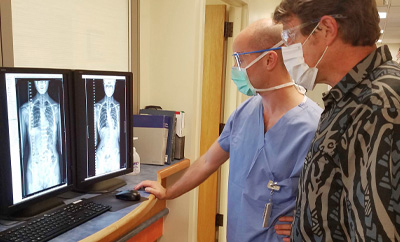 Non-Operative Care
Most spinal conditions in children and teens do not require surgery, but they do require expert care. Children and teens are not just small adults - our team carefully considers the role that growth plays in the progression of spinal conditions such as scoliosis, and the impacts of our treatments on a child and family's well-being. Initial treatment may begin with physical therapy, including scoliosis specific physical therapy for patients with idiopathic scoliosis. For children and teens with scoliosis and kyphosis, growth can mean continued progression of their spinal deformity. We often recommend brace treatment for larger curves, utilizing both night-time and day-time brace options, to try and prevent progression. Our brace partners utilize the latest technology including sensors in the scoliosis brace itself to track the number of hours worn, which has been shown to make brace wear more consistent for kids and their families.
---
Surgical Treatment of Scoliosis and Spinal Disorders
When scoliosis or spinal deformity becomes very large, surgery may be the best option for some children and teens. Just as with non-operative care, an understanding of growth guides our decision-making. Young children may be best served by expandable rods including MAGEC rods (magnetically expandable rods), which can be gradually lengthened in the clinic every few months, to keep up with growth. For older children and teens, spinal fusion or anterior vertebral body tethering (VBT) may be considered. For children with very severe scoliosis and kyphosis, surgery may be preceded by a period of halo-gravity traction, a technique used to gradually stretch out the spine before surgery, to optimize safety and deformity correction.
---
Spinal Fusion vs Anterior Vertebral Body Tethering in Scoliosis
For more than 50 years the gold standard treatment of progressive severe scoliosis has been a spinal fusion. This surgery involves using metal rods and screws to correct spinal deformity, with the goal of a straighter, stable, balanced spine that will not continue to become more crooked over time. After a spine fusion, the spine motion that remains depends on the number of spinal levels fused and what part of the spine was affected. In 2019 the Food and Drug Administration (FDA) approved anterior vertebral body tethering (VBT) for treatment of some patients with scoliosis who would otherwise be candidates for fusion. VBT is also called spinal growth tethering surgery. Through small incisions, a strong cord is attached to the spine on one side and tensioned to asymmetrically alter growth. Potential benefits include early return to sport, potential continued correction of scoliosis over time while growth remains, and, most importantly, maintaining a flexible and unfused spine. Kapiolani is the first hospital in Hawaii to perform VBT, during which procedure our pediatric orthopedic surgeons work with pediatric general surgeons who provide thoracoscopic access. There are pros and cons to both spinal fusion and vertebral body tethering and the "right" surgery will be different for different patients and families. As our scoliosis surgeons perform both spinal fusions and vertebral body tethering, they can objectively help families and teens decide which procedure may help them meet their goals best.
---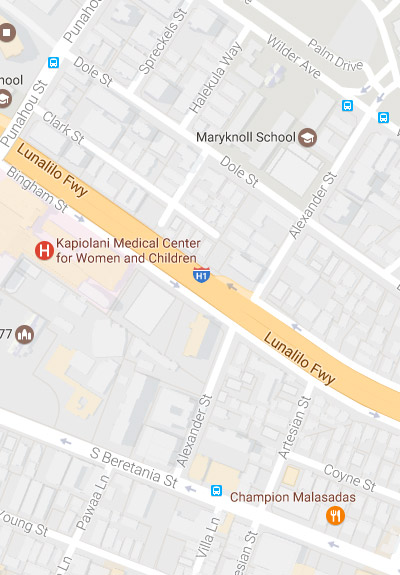 LOCATION INFORMATION
Kapiolani Bone & Joint Center
Kapiolani Medical Center for Women & Children
1319 Punahou St., Suite 630
Honolulu, HI 96826
808-945-3766
Directions