Wilcox Medical Center is working with the Hawaii Department of Health to administer the COVID-19 Vaccine and protect you and your loved ones.
We are currently administering vaccines to individuals ages 16 and older.
Vaccinations are by appointment only; no walk-ins will be accepted at the clinics. Are you part of the current priority group? Learn how to schedule an appointment on Kauai.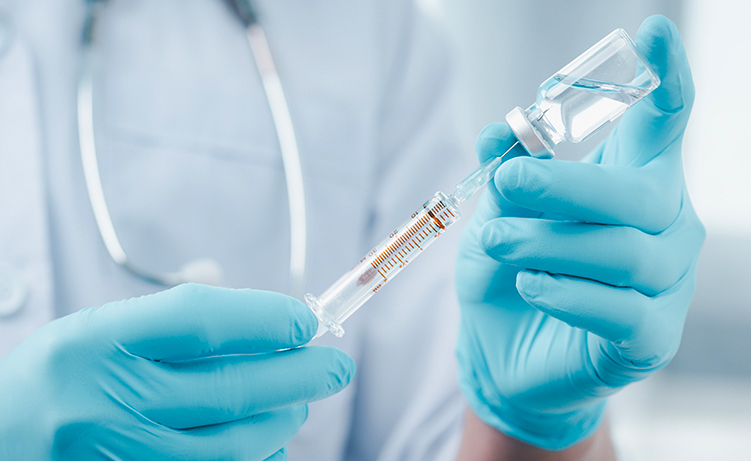 Where Are You in the Vaccine Timeline?
The Hawaii Department of Health timeline provides estimated dates of when the vaccine will be available to the different priority groups.
As the supply of vaccine increases, it is being made available to more groups in the coming months. For more information on the state's distribution plan and priority groups, visit HawaiiCOVID19.com/Vaccine.
What You Need To Know About The COVID-19 Vaccine Program
With the COVID-19 vaccination program, hope and optimism have returned. The goal of putting "shots in arms" continues as the government is adding more age groups and essential workers to those qualified to get the vaccine, but questions remain for many. The following video provides an overview of how the vaccines work, the different types of vaccines, some of the side effects and just how getting vaccinated benefits you and our society. If you have any questions or concerns about getting the vaccine, you are encouraged to watch the video here.
Wilcox Medical Center offers COVID-19 vaccines by appointment only.
Schedule an Appointment on Kauai
If you are a Kauai resident 16 years of age and older, please self-schedule below.
Minors ages 16 or 17 years old must be accompanied to their appointment by a parent or guardian.
Wilcox Health generally provides the Pfizer vaccine. If that changes, we will update this message.
Important Reminders

Only one appointment per qualified individual is allowed.
This scheduled visit is for first doses only.
Preparing for Your Appointment
Location
Wilcox Medical Center
3-3420 Kuhio Highway, Lihue
Please enter and exit Wilcox Medical Center through the side entrance next to the Infusion Center.
Vaccinations are by appointment only. No walk-ins will be accepted.
What to Bring
Picture I.D.
Insurance Card
Pre-Vaccination Checklist
It is recommended you complete and print the checklist to bring to your appointment. If you cannot print this document, we will have them available for you to complete at your appointment.
For second dose appointments only - CDC COVID-19 Vaccination Record Card that was provided to you at your first appointment
Print Checklist
What to Expect
For your safety and well-being, you will be monitored for any side effects by medical personnel for a minimum of 15 minutes after receiving the COVID-19 vaccine.
Before you leave, you will be asked to schedule your appointment for your second dose.
Please note that everyone entering the facility must have their temperature checked, wear a mask and practice appropriate physical distancing.
Find the latest updates and answers to frequently asked questions about the COVID-19 vaccine here. If your question is not answered below, there are links provided at the end of the FAQ section to additional resources for more information about the vaccine.
Vaccine Appointment Questions
Can anyone get the vaccine?
Hawaii Pacific Health is following the state's COVID-19 Vaccination Plan and federal government mandates for distribution of the vaccine to priority groups based on their risk of exposure. We started with Phase 1a of the plan, which includes health care workers and residents of long-term care facilities. We are currently vaccinating Kaua'i residents who are 16 and older. Minors ages 16 or 17 years old must be accompanied to their appointment by a parent or guardian.
How can I schedule my appointment?
If you are in the eligible population for the COVID-19 vaccine, you can make an appointment online at WilcoxHealth.org/Vaccine.
How can I sign up for MyChart for my COVID-19 vaccine appointment?
If you have received any healthcare services at a Hawaii Pacific Health facility, you can go to MyChart.HawaiiPacificHealth.org/Signup to request an activation code. If your personal information can be verified with the information on file at Hawaii Pacific Health, you will receive an activation code by email to open your MyChart account. If the information entered doesn't match, an email will be sent to you saying we are unable to issue an access code. This is a safety measure to protect your personal health information. If this occurs, please request an appointment on our website at WilcoxHealth.org/Vaccine.
Someone called me to schedule my appointment how do I call them back?
At this time, the representative will attempt another call. Please check your email that was used when signing up online. Representatives are assisting people in the order the appointment requests were received.
I received a message in MyChart regarding my vaccination appointment. Can I follow up with them via phone?
The best way to respond is via MyChart message.
Can I bring someone with me to the appointment?
If you require assistance, you may bring one person with you to escort you for your vaccination appointment. This person must be 18 years of age or older.
How early should I arrive for my appointment?
Please arrive no earlier than 15 minutes before your scheduled appointment. Patients who arrive earlier than that will be asked to come back closer to their appointment time.
How long will the vaccination take?
On average, you can expect your appointment to last between 30-45 minutes. For your safety and well-being, you will be monitored for any side effects by medical personnel for a minimum of 15 minutes after receiving the COVID-19 vaccine. At that time, you will also be given a questionnaire to fill out with contact information. Before you leave, you will also be asked to schedule your follow-up appointment for your second dose.
What should I bring with me to my appointment?
Please wear a mask when you arrive for your appointment. You'll also need to bring a photo I.D. like a driver's license or State I.D., your medical insurance card and the printed and completed checklist. If you cannot print the checklist, we will have them available for you to complete at your appointment. If you are coming for your second dose appointment, please bring the CDC COVID-19 Vaccination Record Card that was provided to you at your first appointment.
I scheduled my appointment but didn't receive a confirmation?
If you tried to create an appointment via WilcoxHealth.org/Vaccine and did not receive a confirmation screen, please start a new session. A confirmation page with the details of the appointment is proof that the appointment was scheduled online successfully.
I have a confirmed appointment for my vaccine. Can I reschedule to a different day and time?
Due to limited vaccine availability and high demand, we encourage you to keep your scheduled appointment as is. If you are unable to keep your appointment, log into your MyChart account and reschedule within MyChart. If you don't have a MyChart account, please Click Here and complete the information regarding your confirmed appointment, a representative will contact you to reschedule your appointment.
Which vaccination is Wilcox Medical Center administering? Pfizer, Moderna, or Johnson & Johnson?
We will administer vaccines that are provided by the Hawaii Department of Health. Vaccine recipients will have clear information on which vaccine is being administered at the time of appointment.
I have never received health services from HPH. Can I still sign up to get a vaccination at HPH?
If you are in the eligible population for the COVID-19 vaccine, you can make an appointment online at WilcoxHealth.org/Vaccine.
I have questions regarding the vaccine, is there someone I can talk to?
The Department of Health has a call center, which can be reached by calling 808-586-8332. It is available Monday to Friday from 7:45 a.m. to 4:30 p.m. They also have a website for vaccine questions at HawaiiCOVID19.com/Vaccine or you can email them at doh.imb.vaxcc@doh.hawaii.gov.
Vaccine Safety Questions
Why should I be vaccinated for COVID-19?
Scientific evidence indicates that getting a COVID-19 vaccine can prevent you from getting seriously ill from COVID-19. It can also help protect people around you, particularly those at increased risk for severe illness from COVID-19.
How do we know that these vaccines are safe when they are so new?
COVID-19 vaccines were tested in large clinical trials to make sure they meet safety standards. The vaccines were developed more quickly than ever before, but the science needed to accomplish this has been built up over many years to be ready for just this kind of situation and to respond to the need. Over 40,000 people participated in these trials to study how the COVID-19 vaccines offer protection to people of different ages, races, and ethnicities, as well as those with different medical conditions.
As more people get vaccinated, safety monitoring will continue. The Centers for Disease Control and Prevention (CDC) has an independent group of experts that reviews all the safety data as it comes in and provides regular safety updates. If a safety issue is detected, immediate action will take place to determine if the issue is related to the COVID-19 vaccine and determine the best course of action.
I hear that the vaccine can make me sick. Is that true?
Some people may experience side effects that include pain and swelling at the injection site, headache, fever, muscle aches and being very tired. These side effects may start within a few hours after you receive the shot and be mostly gone by about 36 hours after the shot.
It is important to know that fever is not dangerous and actually helps your body's immune system react to something identified as foreign (in this case the vaccine). Many adults rarely experience fever, so it is common to become worried about something that doesn't happen often. We recommend using acetaminophen (Tylenol) or ibuprofen (Advil or Motrin) as needed to keep yourself more comfortable while waiting for the fever to pass. It is also a good idea to make sure you are drinking plenty of fluids because you may lose more body fluids while you are feverish.
Cough, shortness of breath, runny nose or loss of taste/smell are not consistent with post-vaccination symptoms.
Can I catch COVID-19 from the vaccine?
No. The Pfizer and Moderna vaccines include pieces of mRNA molecules that make proteins to stimulate your body's immune system into making protection against the virus.
Is there anyone who should not get the vaccine?
You cannot receive the Pfizer-BioNTech COVID-19 vaccine if you have a history of severe allergic reaction (e.g., anaphylaxis) to any component of the vaccine including:
Polyethylene glycol (PEG)
Lipids
Potassium chloride or potassium phosphate
Sodium chloride or sodium phosphate
Sucrose
The vaccine has not been well studied in pregnant and breastfeeding/lactating women. If you are pregnant or breastfeeding, you should discuss whether to receive the vaccine with your personal physician. The discussion should include the consideration of your risk of exposure to COVID-19 versus your level of concern regarding the unknowns of the vaccine.
Can I receive the vaccine if I am on immunosuppressive medications/therapies or on biologic treatments?
There is no data currently available to establish safety and efficacy of vaccine in these groups, who may be at increased risk for severe COVID-19 disease. These individuals may receive the vaccine unless otherwise contraindicated if they choose to do so after discussion with their personal physicians.
I already had COVID-19. Is it recommended that I get the vaccine?
People who have been sick with COVID-19 and who have recovered are unlikely to be able to catch it again for at least 90 days, so it is recommended that you not be immunized soon after you recover from COVID-19.
Those who tested positive but showed no symptoms may not have created a strong immune response and should be immunized when the vaccine is available.
Can anyone get the COVID-19 vaccine?
The vaccine has not been made available to everyone due to limited supply. Federal and state agencies have been determining which groups receive the vaccine.
The vaccine supply is anticipated to increase in the weeks and months that follow, and the plan is to have the vaccine available at doctor's offices, retail pharmacies and hospitals.
Should children get the vaccine?
Children are not among the priority group for early vaccination. Drug manufacturers are currently testing the efficacy of the vaccine on younger populations.
How effective is the COVID-19 vaccine?
The Pfizer vaccine is about 95% effective. Protective immunity builds up by four weeks and early studies of the vaccine demonstrate immunity sooner than that. Two shots are needed to attain full immunity.
Vaccination Process Questions
What is the cost to receive the COVID-19 vaccine?
The vaccines are being provided for free, but there may be an administrative fee to cover the cost of setting up vaccination clinics and giving the shots. Most insurance providers (including Medicare and Medicaid) will cover these fees.
How many doses does the vaccine require?
Nearly all COVID-19 vaccines being studied in the United States require two shots. The first shot starts building protection, but everyone has to come back a few weeks later for the second one to get the most protection the vaccine can offer.
Once I have received two doses of the COVID-19 vaccine, do I still have to worry about catching COVID-19? How long will the protection last after vaccination?
The studies that have been done prior to releasing the vaccines all suggest that a very high level of protection is expected, but there has not been enough time to know how long that protection will last. Studies will be ongoing. It is recommended that we continue the measures known to reduce risk of becoming infected with COVID-19: hand hygiene, face covering, and social distancing.
Can I stop wearing a mask and avoiding close contact with others after I have been vaccinated?
It will be important that you still wear your mask, practice physical distancing and keep your hands clean in an effort to protect others. Even once vaccinated, there is the chance of having the COVID-19 virus in your nose and respiratory tract that could be passed on to non-vaccinated people.
How do I report it if I have a problem or bad reaction after getting a COVID-19 vaccine?
Safety is a top priority. The CDC and FDA encourage the public to report possible side effects (called adverse events) to the national Vaccine Adverse Event Reporting System (VAERS). Healthcare providers will also be required to report certain adverse events following vaccination to VAERS. They will also have to adhere to any revised safety reporting requirements according to FDA's conditions of authorized use throughout the duration of any Emergency Use Authorization.
In addition, the CDC is implementing a new smartphone-based tool called v-safe to check in on people's health after they receive a COVID-19 vaccine. When you receive your vaccine, you should also receive a v-safe information sheet telling you how to enroll in v-safe. If you enroll, you will receive regular text messages directing you to surveys where you can report any problems or adverse reactions you have after receiving a COVID-19 vaccine.
Can I sign up on a waiting list to receive the vaccine?
We know many of our patients are interested in getting the vaccine as soon as possible. With the anticipated demand for the vaccine exceeding the supply distributed to each state, federal and state agencies have determined priority groups to receive the vaccine based on their risk of getting COVID-19. Because there are these pre-determined groups for receiving the vaccine, we will not be keeping waiting lists.
Additional Resources
Where can I find more information about the COVID-19 vaccine?
The New England Journal of Medicine has published an article regarding the safety and efficacy of the COVID-19 vaccine. It is available online here.
The CDC website also provides extensive information on the COVID-19 vaccine, including safety, efficacy, vaccine development, recommendations and more. Visit the CDC website here.
The Hawaii Department of Health has also made information available online about the vaccine and the state's distribution plans. Visit HawaiiCOVID19.com/Vaccine.