Clinic Hours
Monday–Friday 8:00am–4:30pm
Visits by appointment only.
Straub Cosmetic Surgery
888 South King Street, Honolulu, HI 96813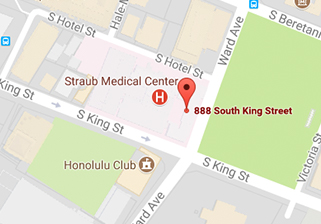 Your First Visit
For your first visit, please be sure to bring the following information:
Medical History
Current list of prescription and over the counter drugs, medications, vitamins and/or herbal supplements
Known allergies
Current General Practitioner's contact information.
Also be prepared to discuss your lifestyle with your doctor, including the use of alcohol, cigarettes and narcotics. Be honest and frank with your doctor, as any of the above can affect your treatment and recovery.