Straub Garage Stairwell Resurfacing Project May 10 – May 14
The parking garage stairwell connecting to the medical center and clinics will be resurfaced and painted.
On May 10 –11, the resurfacing work will occur from 7 p.m. until 3 a.m. Moderate noise may result from this work. During this time the garage stairwell will remain open.
On Friday, May 11, at 9 p.m. the stairwell will be closed to complete the resurfacing project and will reopen on Monday, May 14, at 6 a.m.
There will be a detour route available for patients and staff to access the medical center and clinics from the parking garage during the resurfacing project hours.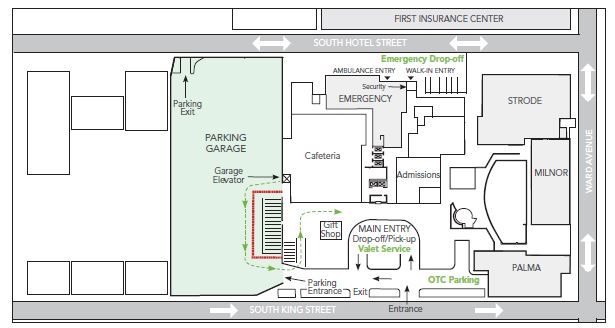 People who are handicapped, in wheelchairs or with limited mobility may be dropped off at the valet during the hours of 8 a.m. to 4 p.m. on Saturday and Sunday, or at the emergency room entrance on Hotel Street.
Outpatient Treatment Center (OTC) patients may park in the front open lot to the right of the entrance.
Ambulatory patients, staff and visitors can access the medical center and clinic during the resurfacing work.
Please take the following route:
Take the garage elevators to get to the basement level.
Exit the elevator at the basement level.
Walk through the marked path of the parking garage towards King Street.
Turn left and walk around the barricades to the stairs near open seating area
next to the gift shop shown on the diagram.
For more information, contact the facilities office at 529-4960
For assistance, please contact the security desk at 522-4064