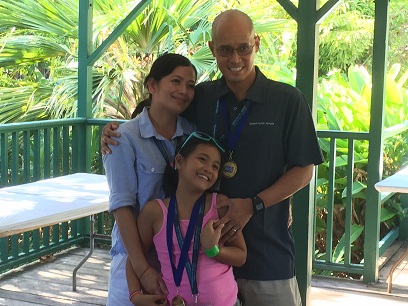 Spencer Chang, MD, is not your ordinary bone and joint physician.
An orthopedic surgeon who is fellowship trained in sports medicine, Chang himself is an athlete as well as a coach for the University of Hawaii, a side-line physician for several schools and the co-chair for the annual Kids Fest program, one of the largest family outreach events in the state.
Chang is a tireless champion for his community, but last year, the active doctor was nearly sidelined by non-Hodgkin lymphoma.
Luckily, Chang was able to work with Straub Oncologist Galen Choy, MD, to create the best possible treatment plan using Hawaii Pacific Health's system of resources.
In addition to the physical care he received, Chang is most grateful for the unwavering support of his ohana at Straub – from the leadership who supported his time off, to his colleagues who supported his clinical practice when he couldn't be there.
Their actions let Chang know he was a valued member of the Straub team.
Now cancer free, Chang continues his extraordinary work in both the local sports and outreach arenas.  
Your continue support of Straub helps patients (and physicians) like Dr. Chang everyday. Donate today.