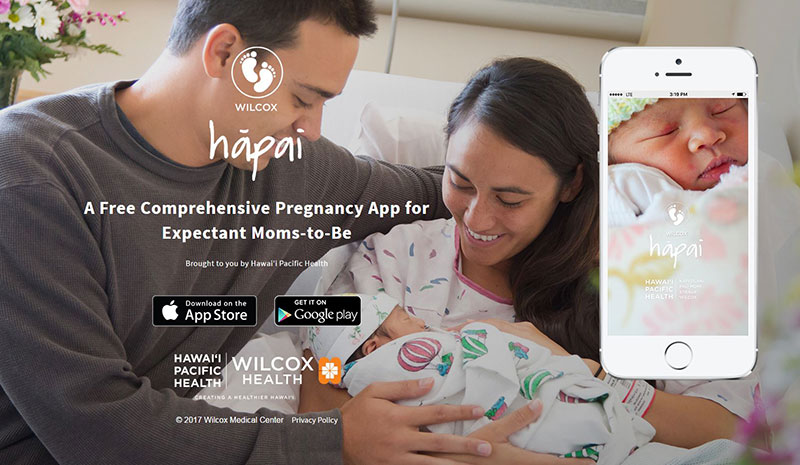 Wilcox Health has welcomed a new addition to its family – its first mobile health application called Hapai that helps mom and baby stay healthy during and after pregnancy.
Hapai (the Hawaiian word for pregnant) by Hawaii Pacific Health features weekly updates so that mothers can track their baby's development in real-time and learn about their own, unique pregnancy. The free app also provides helpful tools and resources to guide them through their pregnancy, as well as tips for preparing for the day of the baby's arrival.
"The Hapai by Hawaii Pacific Health app now features resources and tools exclusively for Kauai's expectant moms – and dads," said Jen H. Chahanovich, President & CEO of Wilcox Medical Center. "Hapai is an extension of the services we offer at Wilcox Medical Center and Kauai Medical Clinic, and it's a fun, informative way for moms to track their pregnancy milestones and receive all the information they need for before and after delivery."
Upon downloading the app, expectant moms can select their island of residence and hospital of choice. Moms who select Kauai will have access to Kauai-specific resources provided by Wilcox Health's maternity experts, including assistance in finding an OB-GYN or pediatrician. Users are also asked to input their due date to receive notifications about relevant pregnancy details and updates on what is going on with their baby week by week. The app even provides a list of popular baby names for inspiration.
Other features of the Hapai app include:
Reminders: Track doctor appointments, shopping needs, exercise times and more.
Notes: Log how you are feeling, write down questions to ask your doctor and have other pregnancy information with you at all times.
Checklist: Get organized as you prepare for the big day with checklists of tips and activities for each trimester, as well as suggested essential items for what to bring to the hospital.
Contraction Counter: Time your contractions when you think you are going into labor.
Parents can also use the app after the baby is born to keep track of feeding times and amounts, appointment alerts, as well as resources and classes at Wilcox for breastfeeding, infant care and more.
Hapai is available to download for both iOS (Apple) and Android mobile phones. To get more information and download the app, visit WilcoxHealth.org/Hapai.