At the Hawaii Pacific Health's Heart Centers, we believe that a "Healthier Hawaii" starts with healthier communities. That's why we work closely with local and national organizations to promote heart disease awareness, prevention, diagnosis and treatment. Below are just a few of our community partnerships that are making a difference every day.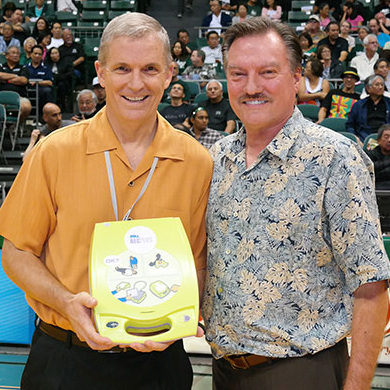 Partnering with UH Athletics
Pali Momi Medical Center, a member of the Hawaii Pacific Health family of medical centers has donated seven automated external defibrillators, or AEDs, to the University of Hawaii Athletics Department for use throughout its men's and women's programs.
An AED is a portable device that monitors a heart's rhythm and sends an electric shock to the heart to try to restore a normal rhythm if there is distress. The units donated by Pali Momi are actually AED Plus devices, which means that in addition to the electric shock, they can also monitor the quality of the CPR being administered to the patient and provide real-time feedback to the individual administering the care.
"As a proud health care partner of the University of Hawaii Athletics Program, we take our role of keeping our UH athletes healthier very seriously," said Art Gladstone, chief executive officer of Pali Momi Medical Center and Straub Medical Center. "These devices can be used during practices and games to provide real time, lifesaving help should the need arise."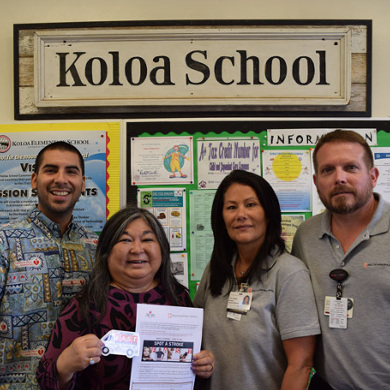 Stroke Awareness for Kauai's Children
Wilcox Medical Center has partnered with the American Heart Association/American Stroke Association Hawaii Division to educate Kauai students on how to spot a stroke and save a life. Representatives from Wilcox and the American Heart Association/American Stroke Association have visited Kauai elementary and middle schools throughout the school year to teach students about the warning signs of a stroke.
Nearly 7,000 Kauai elementary and middle school students have participated in the educational program. Every student receives a magnet highlighting the F.A.S.T. stroke warning signs and a flyer with additional information to bring home to discuss with their family. They also receive a lifesaver rubber duck if they return the signed form to their school after discussing the stroke warning signs with their family.
"Our goal with this program is to educate children on how to quickly recognize any warning signs of a stroke so that they can take that message home to their families and we can reduce the impact of stroke in our community," said Jen H. Chahanovich, president and CEO of Wilcox Medical Center.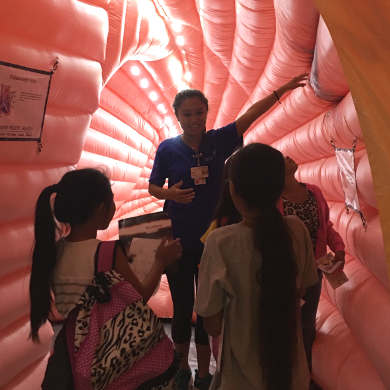 MEGA Heart for Education
The Hawaii Pacific Health Heart Centers regularly brings its MEGA Heart to school and community events to teach keiki about the importance of exercise, nutrition and overall heart health. The American Heart Association Hawaii Chapter's Heart Walk, Boys & Girls Club of Hawaii clubhouses and local elementary schools are just some of the locations that we have visited with our MEGA Heart.
The MEGA Heart is an enormous inflatable heart (approximately 13 feet high by 15 feet wide by 26 feet long!) that kids and adults can actually walk through and explore. It provides a highly interactive educational experience that increases people's awareness of America's number one killer: heart disease.
Visitors can see inside the human heart, learn about cardiovascular functions, observe examples of various types of heart disease, and see displays of some of the latest medical treatments for heart problems.