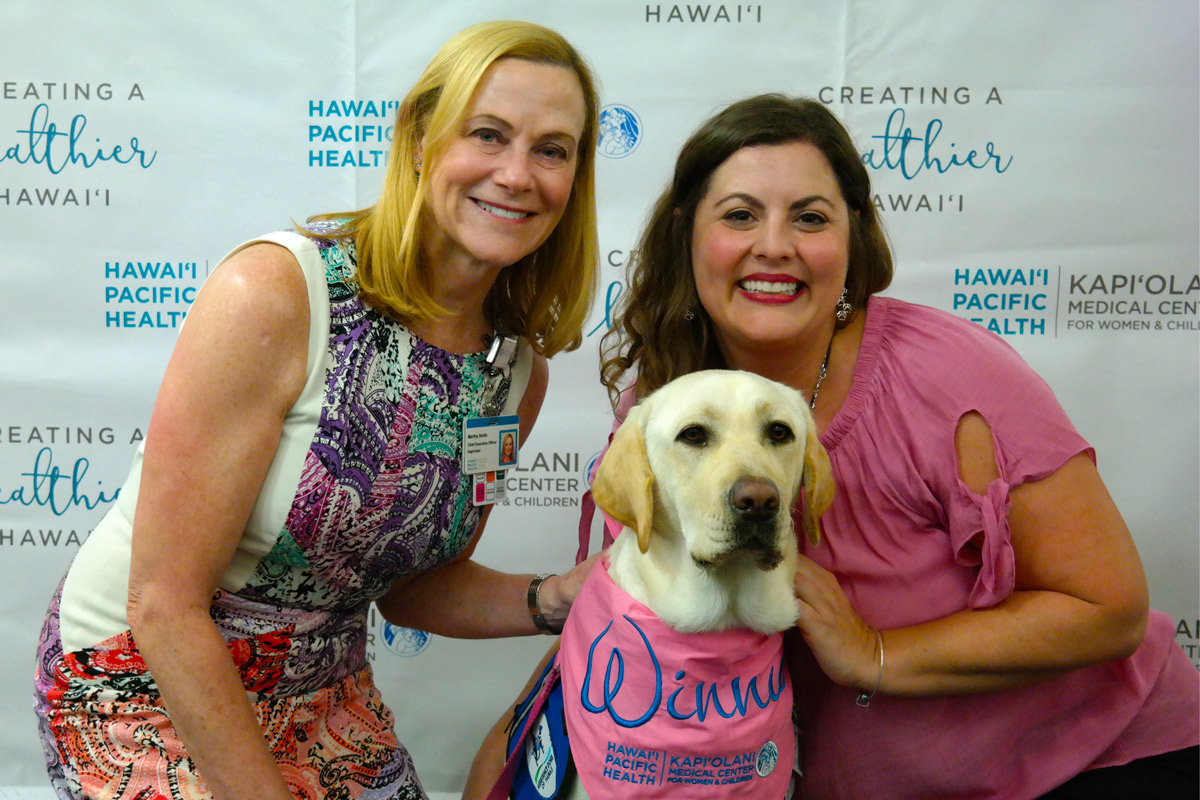 Kapiolani Medical Center CEO Martha Smith (left) and Dr. Wendi Hirsch (right) are tickled pink to have Winnie be part of the Kapiolani ohana
Welcoming Winnie to the Kapiolani Ohana
Everything's coming up rosy at Kapiolani Medical Center for Women & Children. 
That's because the medical center has welcomed the newest addition to its ohana – Winnie, a 1-year-old Labrador retriever who will serve as the hospital's new facility dog and hold the title Chief Canine Officer (CCO). 
"I'm very excited for Winnie to start work here," says Dr. Wendi Hirsch, a pediatric psychologist with Kapiolani Behavioral Health Service and Winnie's handler. 
"She is sweet, kind-hearted, loving, and absolutely adores children. She is the perfect dog to carry on Tucker's legacy," Hirsch says. 
There is just something so healing about the connection between a dog and a person."
Winnie follows in the paw-steps of Tucker, a golden retriever who served as Kapiolani's facility dog, CCO and unofficial mascot for nearly a decade before passing away in August 2016. 
According to Hirsch, a hospital facility dog provides care in ways that doctors and other medical specialists otherwise cannot. 
"There is just something so healing about the connection between a dog and person," Hirsch says. "Tucker showed us that medicine comes in many forms, including four-legged. Winnie also has that special gift to connect with people, an underlying sweetness and desire to please that will be so beneficial to our patients." 
So far, the reaction to Winnie has been nothing but "paw"-sitive. 
"Patients and families LOVE her. She has such kind, soulful eyes, and a darling, easy-going temperament," Hirsch says. "We are grateful to Assistance Dogs of Hawaii for hand-picking, training and gifting Winnie to us, just as they did with Tucker. She is a gift we will absolutely cherish." 
Here, get to know Winnie and a few of her favorite things:
Date of birth – Feb. 11, 2016.
Breed – Labrador retriever.
Birthplace – Wailuku, Maui.
Favorite color – Pink! 
Favorite treat – She isn't picky at all (her mom, Wendi, only lets her eat healthy treats, though).
Favorite chew toy – Anything that bounces or makes squeaky noises.
Favorite beach – Because she was born and raised in Maui, Winnie loves Keawakapu Beach. No doubt she will find some beaches on Oahu that she will love too!
Favorite place to be pet – She loves to have her back scratched!
Special talent – She loves to snuggle and bring things to you that she carries in her mouth.
Fun facts – Winnie was originally named Wendi, but her name was changed to avoid confusion with her handler. She was nicknamed "Wiggles" at the training center in Maui because when she gets excited to see people, her whole body wiggles! 
Learn more about Winnie each month in her special guest column, Winnie's Corner, right here on HealthierHawaii.org. 
You can also stay connected with Winnie on Facebook and Instagram @WinnieHirsch and by using the hashtag #LoveWinnie.
Published on: March 6, 2017