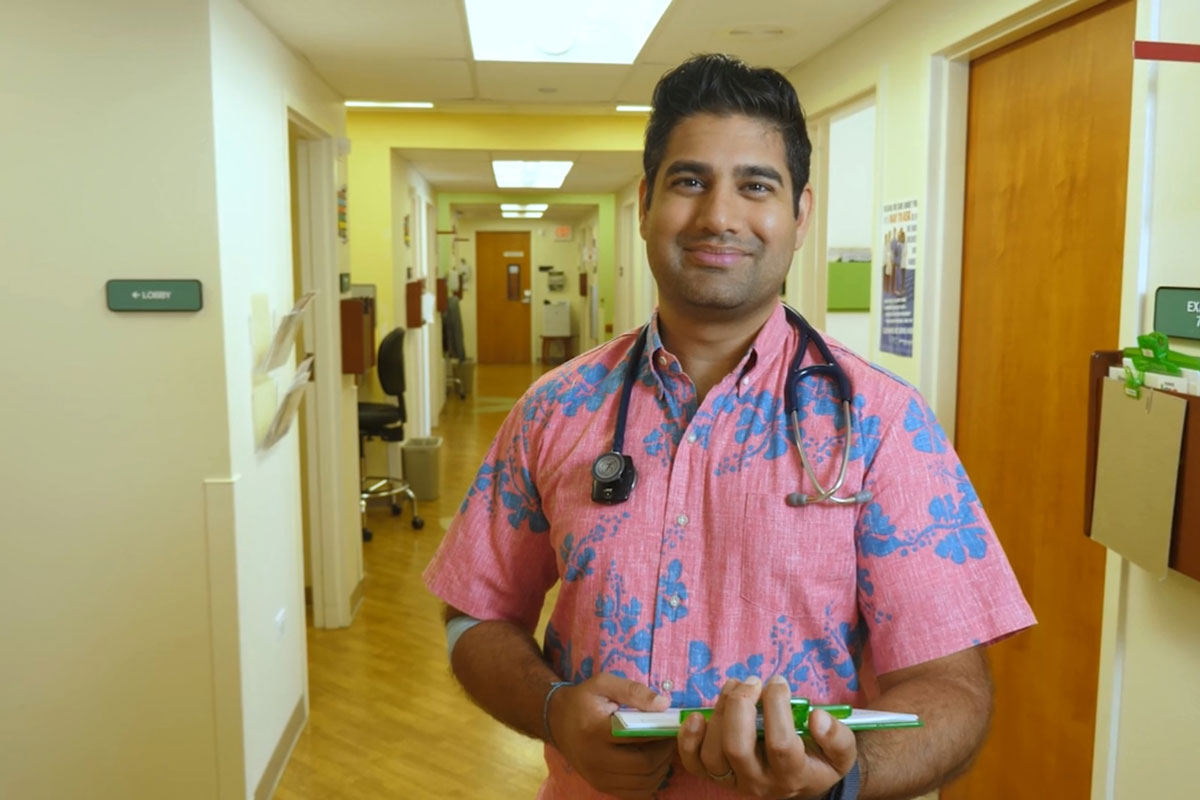 Dr. Kapur's prescription for a happy life – Take what you have been given and run with it!
How Ohana Inspires a Straub Family Medicine Physician
Getting to Know: Dr. Amar Kapur
Dr. Amar Kapur is a family medicine physician at the Straub Medical Center – Mililani Clinic.
Born in Dallas, Texas, Kapur has lived across the country, including California, Arizona, Washington and Alaska.
Kapur commissioned into the U.S. Army during medical school and competed his residency at Madigan Army Medical Center.
Near the end of his military career, Kapur and his wife, who is a clinical psychologist, began looking for jobs along the West Coast.
"She grew up in Hawaii, so naturally I applied. When I was interviewing, they asked if she wanted a job as well, and the rest is history!" Kapur says.
Kapur and his wife, Nanako Negome-Kapur, moved to Oahu in August 2018.
He has comfortably adapted to the island lifestyle, especially when it comes to the local concept of ohana.
"I want families to be families again – to bring activity, the spirit of togetherness and joy into the home. I guess you would call that the spirit of ohana," says Kapur, who hopes to have children in the near future.
In his free time, you can find Kapur keeping active around the Kailua community, be it running, swimming, biking or hiking with his dog, a Shiba Inu named Yuzu.
Below, learn more about Kapur, what inspired him to go into the field of medicine and why he believes a healthier Hawaii begins and ends with family.

Where did you receive your schooling and training?
I attended the University of San Francisco for my undergraduate degree and Touro College in Vallejo, California for medical school. I completed my residency at Madigan Army Medical Center, which is located on Joint Base Lewis-McChord just outside of Lakewood Washington.

Can you explain a general overview of what you do?
Family medicine is the ability to treat patients from conception until death. Our goal is to treat each patient with dignity at all stages of life.
The only other specialty that can do this is emergency medicine, the difference being that emergency medicine physicians treat patients based upon acute "emergency" conditions. Once settled, patients follow up with and establish care with family medicine physicians. We treat long-term diseases like high blood pressure or diabetes.
We also are the point of transition between specialists should the patient require additional treatment. If there is a condition that needs special care, such as cancer, we can refer the patient to the right specialist, then continue working with that patient for follow-up care as part of his or her health care team.

What are some of the most common issues you treat?
Diabetes, hypertension, hyperlipidemia (bad cholesterol), women's health issues, musculoskeletal complaints and metabolic issues, such as obesity.

What inspired you to go into the field of medicine?
My parents forced me! Just kidding (kinda).
I originally wanted to study psychiatry as a psych major but then realized I liked family medicine much more because I can do so much.
Family medicine really just takes care of the whole family and covers all areas. I love it!

What is your favorite part of your job?
I love building relationships with my patients and their families; it makes me feel like part of the community. It was one of the reasons I liked the military so much – it was the same thing.

Is there a particular area of expertise you enjoy working in most? If so, please explain why?
I like to focus on preventive measures. If we can keep people healthy and stop them from becoming diabetic, overall they save so much – not just financially, but also emotionally and physically. Not to mention that you can live a longer, healthier and better life just by doing the basics!

What do you enjoy doing on your free time?
In no particular order: Reading, hiking (with my dog, Yuzu, especially!), taking photography, cooking, playing video games, swimming and biking.

What does "creating a healthier Hawaii" mean to you?
Creating a healthier Hawaii means helping my community to live better. I don't want to extend your life so much as I want to help you live it and enjoy it better. I want you to take what you have been given and run with it. Enjoy life and hit those life goals!
Published on: October 15, 2018