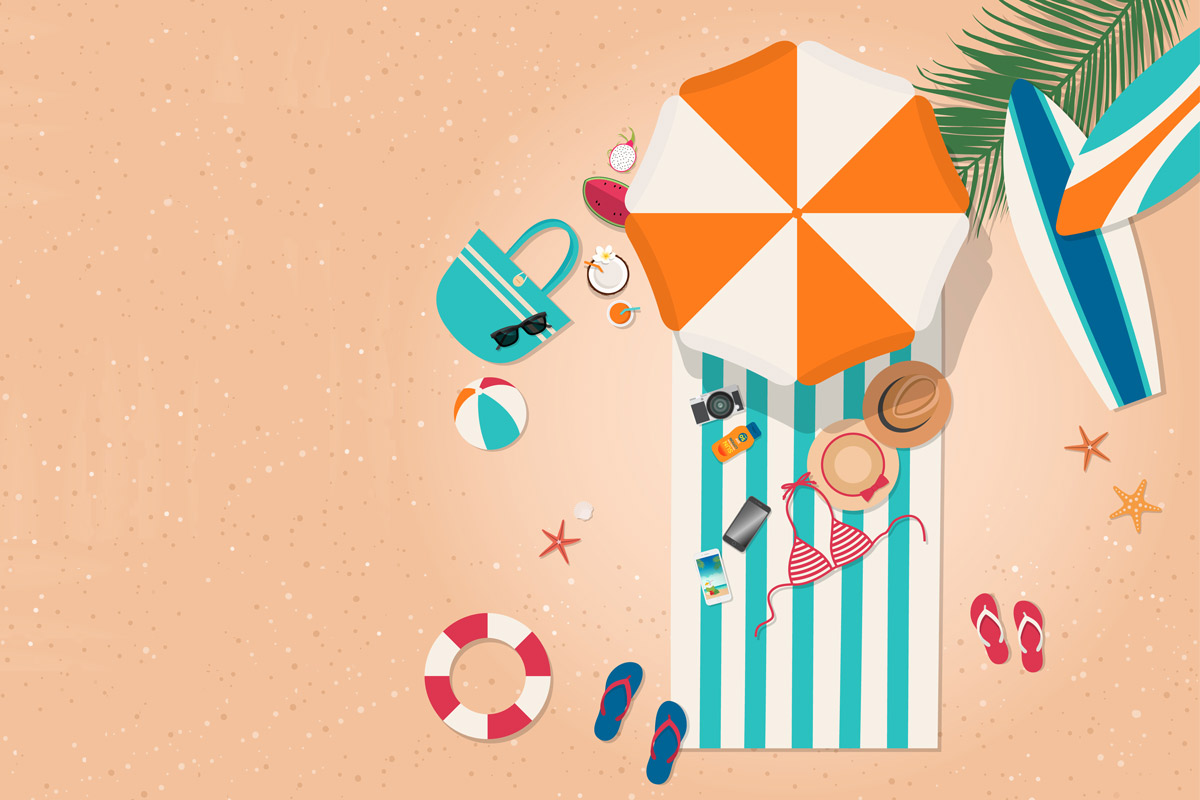 Surfboards and sand castles make for a fun day at the beach, but be sure to fill your bag with other necessities like sunscreen, wide-brimmed hats and a flotation devices.
How to Pack a Healthier Beach Bag
Sun, sand and surf make for the perfect summertime escape, but it's important to fill your bag with healthy necessities to make the most out of your day at the beach!
Here's a brief list of essentials to bring along:
Sunscreen.

There's no skimping on this surfside essential! Sunscreen is the best way to protect yourself against damaging UVA and UVB rays. Don't forget to reach for a sunscreen with at least an SPF of 30 or higher, and to reapply often to maintain the product's effectiveness in blocking out the sun's rays! Also, seek out sunscreens that are reef-safe, meaning they don't contain the harmful ingredients oxybenzone, octinoxate and octocrylene, which can kill coral and damage coral reefs.



Lip balm (with SPF).

It's important to protect your lips from the sun too! Apply a generous coat of lip balm with an SPF of at least 15 to both block out harmful UV rays and lock in moisture. Avoid glossy or shiny formulas – a study from Baylor University Medical Center in Dallas found that these cosmetics attract light and can actually increase a person's risk of skin cancer.



Sunglasses and hat.

Top off your beachside look by bringing along a pair of sunglasses with UV protection and a hat for extra coverage from the sun.



Beach umbrella.

Think of it as extra coverage to keep you cool and shaded on a hot day at the beach.



Aloe vera.

In case you do get sunburnt, aloe vera can help relieve some of the pain. Known as the "burn plant," this succulent has been shown to be a powerful natural remedy for the stinging and itching that comes along with a bad sunburn. (Sorry, it won't help get the red out.)



Insect repellent.

There may be bugs at the beach, so bring some repellent to avoid their annoying – and potentially poisonous – bites!



Water.

From surfing to building sandcastles with the kids, you can sure work up a sweat! Fill a reusable bottle with enough water to keep yourself hydrated throughout all your beach activities. Even if you don't feel thirsty, make sure you drink enough water to avoid dehydration, sunstroke or other heat-related illnesses.



Healthy snacks.

Refined carbohydrates and excess fats may leave you feeling bloated and fatigued. Instead, pack healthy foods such as fruits and granola bars to keep you content and energized. Some of our favorite picks for a beach picnic include these Fresh Fruit Kebabs with Coconut Yogurt Dip and Tropical Breakfast Bars. For a more substantial spread, try these Korean Barbecue Burgers with this Tomato, Cucumber & Feta Summer Salad on the side.



Cooler or insulated bag.

Keep your cold foods refrigerated to prevent food borne illnesses. Make sure to keep cold foods at 40 degrees or below, and to load your cooler with enough ice or ice packs to maintain this temperature. Transport coolers in an air-conditioned car, not in a hot trunk. Clean coolers thoroughly before and after use.



Disposable wipes.

Anti-bacterial wipes will keep your hands clean before eating your delicious foods.



Flotation devices.

If you're out with children, this will keep your mind at peace as they play in the ocean. However, always keep your eyes on keiki! For extra safety, only swim at beaches where there is a lifeguard on duty, and be mindful of current conditions.



A good book.

There's no better place to enjoy reading a good book than at the beach. Go retro with a paperback version, or upload your favorite read to an e-reader.



Baby powder.

We all love a good day at the beach, but no one wants a reminder stuck to the floor mats and seats of their car a week later. Make cleanup a breeze with baby powder. Simply apply a light dusting to feet, legs, hands – wherever you need it – before heading home. The powder removes moisture from your skin so that sand slips right off!

About to Head to the Beach?
Download our "Healthier Beach Bag" list for a handy go-to of all the things you'll need to pack for a healthier day at the beach.
Published on: May 23, 2019