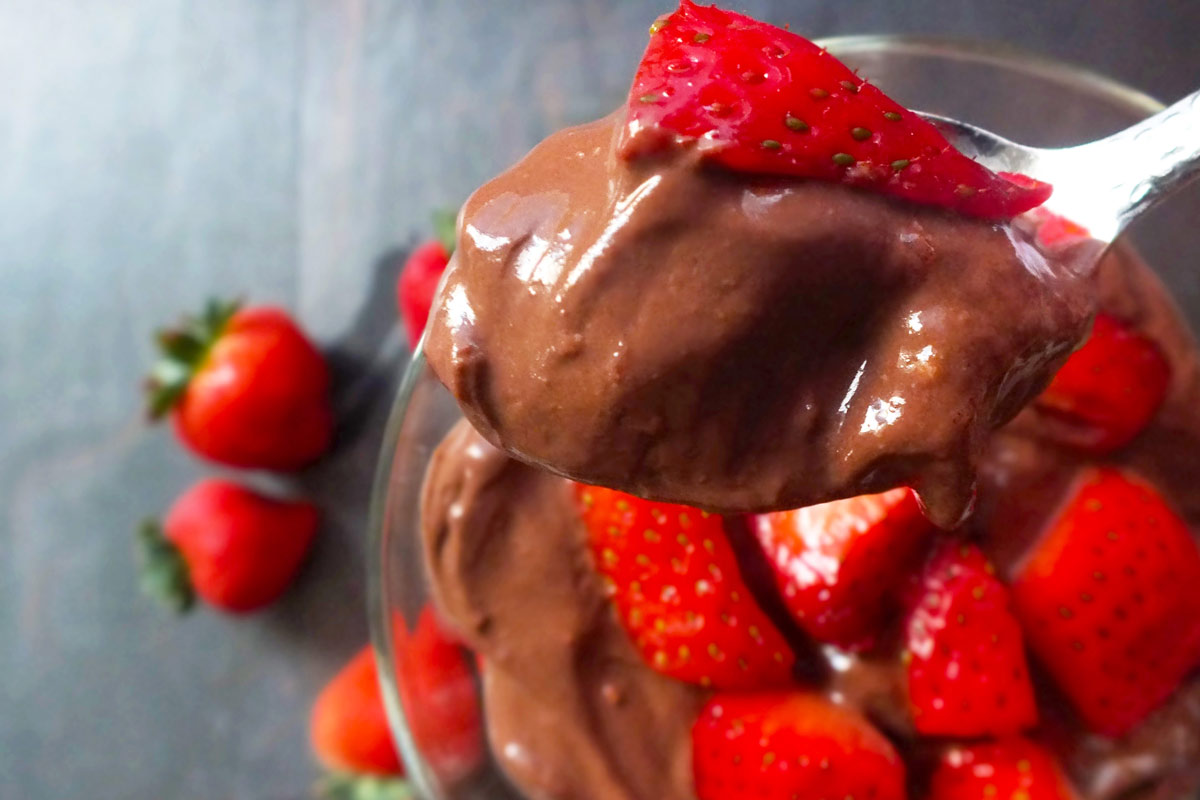 Chocolate Pudding with Strawberries
The secret ingredient in this deliciously easy and practically instant chocolate pudding? Silken tofu. 
Tofu is a great source of protein, antioxidants and omega-3s. 
Once blended together with cocoa powder, maple syrup, vanilla and stevia, this custard-textured form of tofu is transformed into an intensely chocolatey dessert that's full of valuable phytonutrients, flavonoids and natural plant protein. 
Use silken tofu when making creamy sauces, dressings and smoothies for rich flavor without a large amount of added fat. 
In this recipe, make sure you use unsweetened cocoa powder, not prepared cocoa mix. 
For an extra special treat, top with fresh strawberries or other naturally sweet berries. 
Once made, the pudding can be kept in the refrigerator for up to three days. 
Chocolate Pudding with Strawberries
Recipe courtesy of the Ornish Lifestyle Medicine program
Serves 6
Ingredients:
18 ounces silken tofu
1 1/4 cups unsweetened cocoa powder
1/4 cup pure maple syrup
2 tablespoons vanilla extract
1 1/2 teaspoons stevia powder
1/4 teaspoon fine sea salt
1 cup fresh strawberries, sliced or chopped
Directions:
1. In the bowl of a food processor fitted with a metal blade, combine tofu, cocoa powder, maple syrup, vanilla extract, stevia and salt. Process until mixture is smooth and creamy, stopping as necessary to scrape down the sides and center of bowl with a rubber spatula.
2. Divide pudding mixture between six small serving dishes. If you prefer a firmer pudding, chill before serving. Top each portion with berries. 
Nutritional information per 1/3-cup serving:
Calories: 154; Carbohydrates: 27g; Protein: 8g; Total Fat: 4g; Cholesterol: 0mg; Dietary Fiber: 9g; Sodium: 130mg
Published on: April 26, 2016