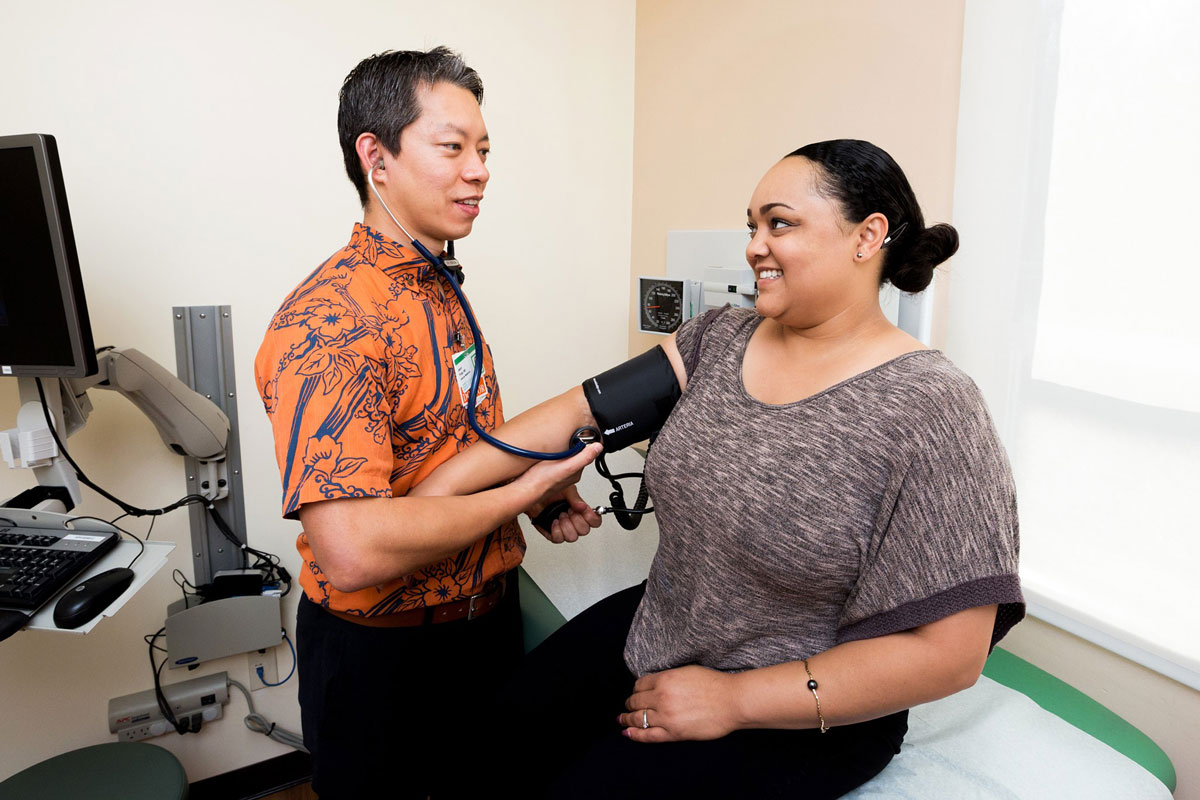 Dr. Jason Pirga says his favorite part of the job is working with patients to help identify and meet their personal health goals. (Photo by Anthony Consillio)
Why You Shouldn't Put Off Seeing Your PCP
You run four times a week, make sure there's at least two servings of veggies at each meal, and carve out an hour of time to wind down before bed.
You wear sunscreen, read food labels and limit screen time.
You take the stairs instead of the elevator.
You meditate.
You don't smoke. 
Sounds like you're doing everything right in terms of taking care of your health, right? 
But if you haven't made an appointment with your primary care physician in more than a year, you may be missing out. 
A primary care physician, or PCP, manages the general health care needs of their patients. 
This doesn't mean only treating you when you're sick – your PCP can help work with you to prevent many chronic medical conditions from developing. 
Dr. Jason Pirga, an internal medicine physician at Straub Medical Center, explains more the importance of seeing your PCP regularly and how preventive screenings during a yearly physical exam can keep you healthy for years to come.
 
Why is it important that people see their primary care physician once a year?
I believe that it is important to get regular checkups at least once a year for various reasons. 
During these exams, your PCP can detect diseases at earlier stages, which makes them easier to treat and control. 
We can also prevent other diseases from happening, such as with routine vaccinations. 
Perhaps most importantly, your PCP can work with you to create positive lifestyle changes to promote longevity and help you to maximize your quality of life.
 
What is usually done during a yearly physical exam?
Usually we'll ask questions about your overall health history, your family's health history and your personal habits, such as smoking and alcohol use. Of course, we'll ask you about your present concerns, whether they be pain, high blood pressure, skin spots, anxiety or something else. Then, we'll examine you and discuss a care plan moving forward. Sometimes this includes ordering lab or imaging tests, prescribing medications or referring to a specialist for more detailed care.
What we recommend depends upon the individual's circumstances.
 
Can physical exams help prevent/reduce the risk for many chronic health conditions, such as cancer, diabetes and heart disease? 
Absolutely! We emphasize age-appropriate cancer screenings during physical exam visits. We often discuss these during our follow-up visits, too. 
Early detection of cancers, for example, leads to earlier treatment and, in many cases, improves the likelihood for long-term survival. 
Finding out that someone has hypertension or diabetes can help us prevent complications such as strokes, heart attacks or kidney failure later on.
 
What should someone look for when choosing a PCP?
Look for someone who listens to you, cares for your concerns, works with you to help you identify and meet your own goals, and is conscientious about tending to your health needs.
There are many primary care clinicians in the community to choose from, and sometimes it can be difficult to choose one. 
You can choose one within your health plan's network, or get a referral from a friend, family member or even a health care professional you know. 
We have excellent PCPs here at Straub and throughout the Hawaii Pacific Health system, many of whom are accepting new patients.
 
To find a PCP accepting patients near you, call 808-522-6969 or click here.
Published on: July 17, 2018