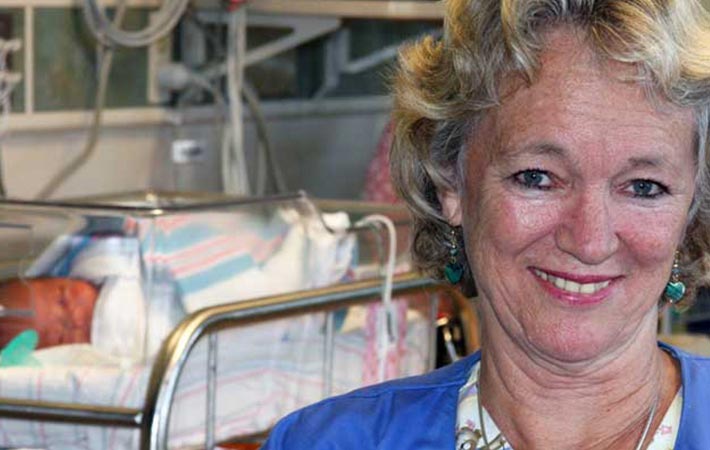 Sharon O'Hara-Katres
Retired Charge Nurse, Neonatal Intensive Care Unit
Kapiolani Medical Center for Women & Children
Interested in a job as a NICU nurse at Kapiolani?                                                                                Apply Today!
"I love working with babies," says Sharon O'Hara-Katres, RNC, charge nurse in the Neonatal Intensive Care Unit. "I started here 34 years ago and, after seeing the difficult journey that babies and parents go through, I realized this was my passion. I wanted to pursue my career at Kapiolani Medical Center."
Three decades later, Sharon's relationship with the hospital, its staff and patients, is stronger than ever. "I've always felt surrounded by dedicated physicians, nurses, respiratory therapists – everyone who works here truly has a love for children," she says. "This love is reflected in the care we provide, which is on par with our nation's finest hospitals."
Sharon also credits the hospital's administrators for ensuring that staff have state-of-the-art resources to perform their duties. Kapiolani is a Level III hospital and a tertiary care center for the Pacific Region, where many specialists offer a wide range of life-saving therapies. The NICU has an ECMO, jet ventilators, oscillators, emergency transport team that flies to Neighbor Islands, and more.
"I've seen Kapiolani grow to meet the community's health care needs. It's a very dynamic environment, always with a really good team and great support from management. We all believe in the hospital's mission, started more than 100 years ago, to care for Hawaii's women and keiki. It's a wonderful place to work."