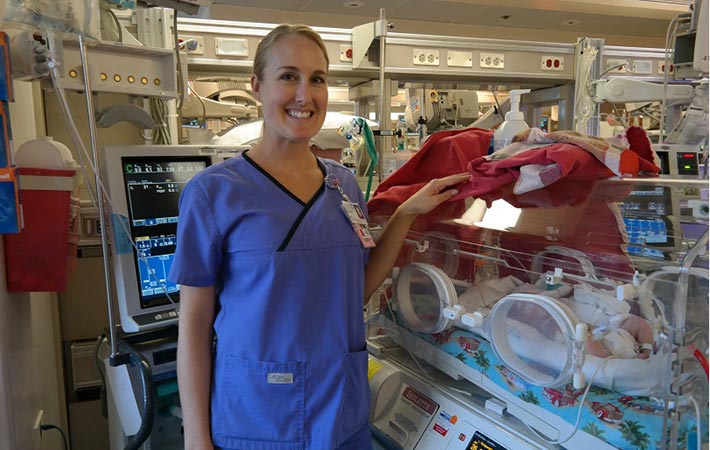 Sara Breeze
Registered Nurse, Neonatal Intensive Care Unit
Kapiolani Medical Center for Women & Children
Interested in a job as a NICU nurse at Kapiolani?                                                                                               Apply Today!
A job as a travel nurse led Sara Breeze to Hawaii from her hometown of Phoenix, Arizona. She took a staff position at Kapiolani Medical Center for Women & Children in 2009 and never left.
With a Bachelor of Science in Nursing from Arizona State University, Sara spent a few years working as a travel nurse on the mainland, moving all over the United States and working at various hospitals.
"I was interested in health care from a young age," says Sara. "My grandpa was a dentist for 50 years. I really admired him as a child and I think he helped nurture my love for science and medicine early on."
Now as a registered nurse in the Neonatal Intensive Care Unit (NICU) at Kapiolani, Sara works closely with doctors, respiratory therapists and other members of the health care team to plan and deliver medical care to newborn babies who experience problems shortly after birth.
Most of Sara's day-to-day responsibilities include monitoring critically ill babies. She performs complex procedures, lab draws and assessments, monitors vital signs, administers medications, and coordinates care of infants with the health care team.
Working in the NICU, nurses interact with families a great deal. Much of Sara's job entails providing education and emotional support to the parents and family members of the babies, as well comforting the infants.
Sara's favorite part of her job is seeing the progress of her patients and working with families. "Some of our babies are born at just one pound and are so fragile. It is amazing to see them grow, get stronger and go home," she adds.
Sara is looking forward to moving into the new Diamond Head Tower at Kapiolani. She says it will provide her team with more space, and will be quieter for the babies so they can get the rest they need. She also thinks it will be great for the families who wish to spend more time with their infants in private.
Sara enjoys being at Kapiolani because of the great team she works with in the NICU. She finds Hawaii a beautiful and inspiring place to call home and enjoys the aloha spirit. She sees there is a real sense of family and community among the people here.
Sara enjoys traveling and spending time outdoors, whether it's hiking, running, paddle boarding or going to the beach. Working mostly 12 hour shifts, three days a week, she says her schedule is great because, although her days at work are long, she has a lot of free time during the week. She feels Oahu is the best place to live because there are so many activities to do outside year round with great weather, and the island offers a great mix of city life and country culture.
"I originally came to Hawaii as a traveling nurse, but after working at Kapiolani, I didn't want to leave." says Sara. "I absolutely love working in the NICU, and I couldn't imagine myself working in any other area or with any other patient population."