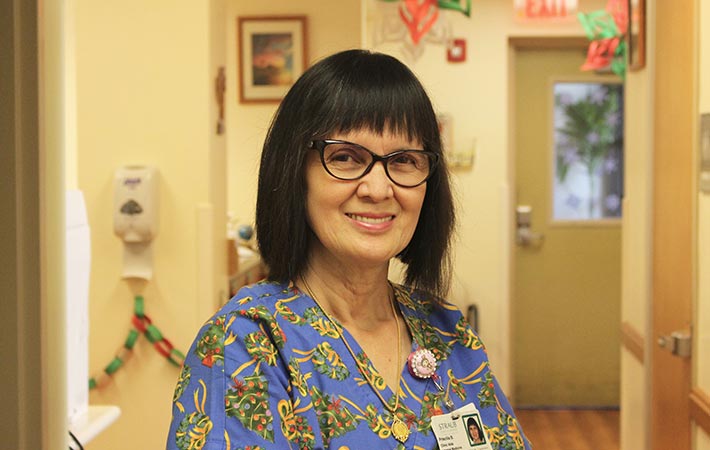 Priscilla Batul
Clinic Aide
Straub's Internal Medicine Department
Interested in a fulfilling career at Hawaii Pacific Health?                                                                                Apply Today!
Before starting her career at Straub Medical Center, Priscilla Batul worked as a midwife in the Philippines.
She began her journey with Hawaii Pacific Health on Aug. 29, 1983, after moving to Hawaii and currently works as a clinic aide alongside Internal Medicine Physician Dr. Kathy Kozak at Straub's Internal Medicine Department on King Street.
Priscilla is known for her exceptional patient care and kind personality. She constantly strives to make a difference through providing the best patient experience, which to her means "making the patients feel comfortable; to make them feel like they are being given the highest quality care."
"I try to treat my patients like my own family. That way, it feels more natural. When you treat them like your own, you will always give it your best," she says.
The secret behind her work is making sure that she practices AIDET on every patient. AIDET stands for acknowledgment, introduce, duration, explanation, and thank you.
This acronym represents the importance and power of communication between the staff, patients and their families.
What truly exemplifies Priscilla's exceptional patient care is her ability to build trust with her patients.
"We have to build that trust so they can ask us the questions they need to ask us, so they can understand what happens next," Priscilla says.
By building strong relationships of trust, Priscilla sets an example for all caregivers.