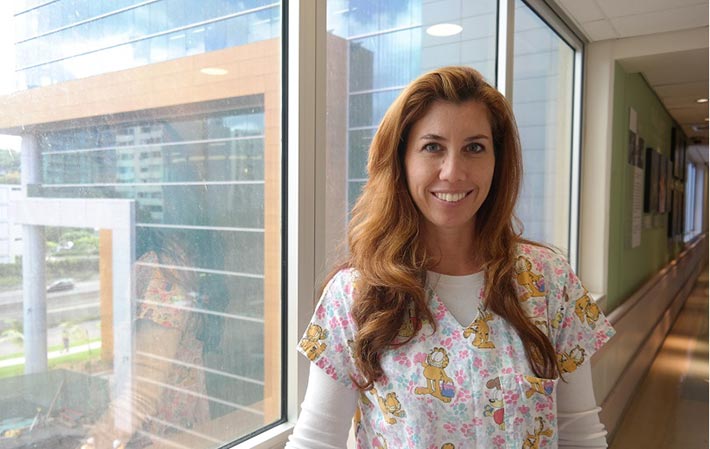 Joline Murillo
Registered Nurse, Pediatric Intensive Care Unit
Kapiolani Medical Center for Women & Children
Interested in a fulfilling career at Hawaii Pacific Health?                                                                                Apply Today!
Born and raised in Kaneohe on the island of Oahu, Joline Murillo cannot imagine living anywhere else. She began her nursing career at Kapiolani Medical Center for Women & Children in October 2002 as a participant in the Kapiolani Pediatric Intensive Care Unit (PICU) new-graduate program.
Since she was a little girl, Joline knew she wanted to be a nurse. After taking some health occupation classes in high school, she became even more interested in health care and patient care. This led her to Hawaii Pacific University, where she graduated with a bachelor's degree in nursing.
Currently a registered nurse in the PICU at Kapiolani, Joline cares for children from as young as 3 days old to 26 years old. She cares for children from Hawaii and throughout the Pacific Region, including Guam, Saipan and the Marshall Islands.
On a day-to-day basis, Joline is responsible for administering medications, doing labs and monitoring vital signs. She also operates and monitors specialized equipment such as dialysis machines or heart-lung machines for children to help sustain them when they are critically ill or being transported to the mainland for more-specialized care.
Working in the PICU requires many years of training and hands-on learning that takes place on the floor. Joline enjoys this learning process, as well as seeing the different cases and diagnoses of patients.
The best parts of her job are being able to work with children, meeting so many loving families and knowing that she is really making a difference in their lives.
When she isn't at work, Joline enjoys spending time with her two children.
"My job really makes me appreciate life, especially my two healthy boys. I hug them extra tight every night after work," she says.
Some of their favorite activities include going to the beach, hiking and spending time outdoors.
She loves living and working in Hawaii because it allows her to be close to her family, roots and heritage.
"The aloha spirit is something special that you can't find elsewhere," she says.
Joline would highly recommend applying for a Kapiolani PICU nurse position to anyone interested because not only does it offer great compensation and benefits – and the added bonus of living in paradise – but it also provides the opportunity to make a meaningful impact on people's lives.
"I love my job and being able to help some of Hawaii's sickest kids," she says. "The reward of seeing families get their child back is priceless."