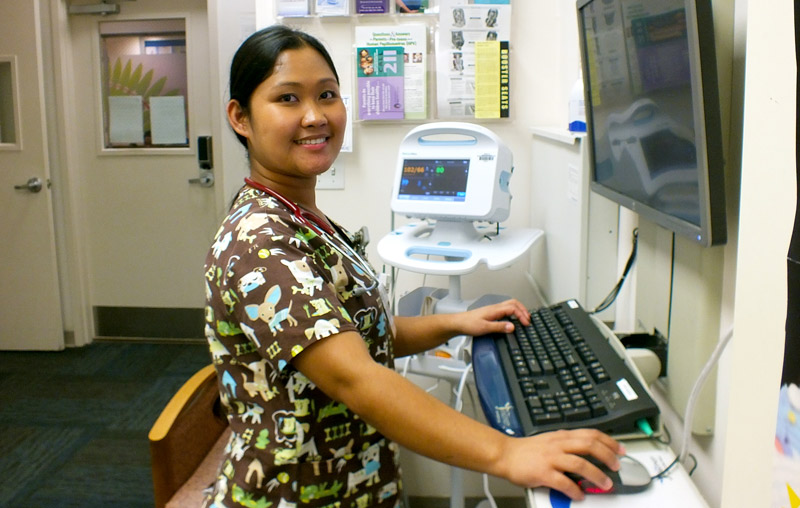 Isabelleza "Kris" Tabios
Certified Medical Assistant, Pediatric Outpatient Unit
Kapi'olani Medical Center for Women & Children
Interested in a fulfilling career at Hawaii Pacific Health?                                                                                Apply Today!
Isabelleza "Kris" Tabios loves helping people, which is one of the reasons she decided to join the Hawaii Pacific Health ohana in 2011 as a medical assistant in the pediatric outpatient unit at Kapiolani Medical Center for Women & Children.
"I decided to work at Kapiolani because my daughter was born here, so I wanted to give back," says Kris, who was born and raised in the Philippines and moved to Hawaii in 2002.
As a certified medical assistant, Kris is responsible for obtaining patients' vital signs, assisting doctors, giving vaccinations, providing referrals if patients need to see specialists, and much, much more.
"Kris is an exceptional MA and is well-respected by our physicians, staff and patients," says Kirsten Pennaz, RN, manager of clinical operations at Kapiolani's outpatient clinics.
"She greets patients and staff with her bright, contagious smile and demonstrates heartfelt courtesy and sincere empathy for her pediatric patients," Kirsten says. "Kris will go the extra mile to ensure patient satisfaction and patient safety. She is passionate about her work because she knows she makes a difference."
Kris also is the VFC (Vaccines For Children) coordinator for Kapiolani, a role that requires she communicate with the Department Of Health (DOH) Vaccine for Children's Program to order and track inventory of vaccines provided by the DOH.
"Kris is a vaccine expert and ensures we have adequate supply and educational materials for our patients," Kirsten says. "Kris meets with clinic leadership regularly to make sure our vaccine program is optimal."
No matter what her day may bring, Kris says that her favorite part about her job is working with patients.
"I am proud of myself if my patients are getting better or if I help them with the needs that they have," she says. "I love my job because I make a difference in patients' lives. When they get better, when they are satisfied with my service, I am proud of myself."
Kris also is proud to work beside like-minded individuals who, she says, "treat you as if you are their own family."
"Our supervisors are really nice; if you have problems, you can count on them! They are always there to support you," she says.
Another benefit of working at Hawaii Pacific Health that Kris appreciates is the flexibility of her schedule.
"My job is very flexible, so I have a lot of time to enjoy the 'outside world,'" she says with a laugh. "I love to travel with my husband and my daughter. My daughter loves going to Disney World or Disneyland, so we try to go once every year or two."
In the hopes of helping others who may be interested in a career as a medical assistant at Hawaii Pacific Health, Kris had this to say:
"There will be no regret in applying to Hawaii Pacific Health. It is a great company to work for, with great pay and great benefits.