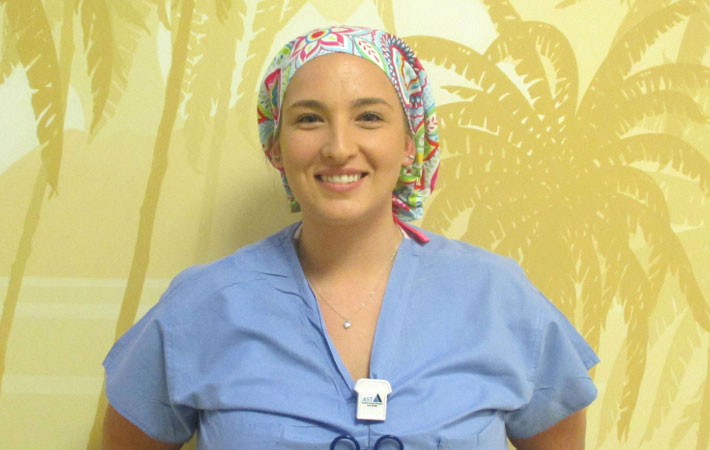 Candice Pitman
Surgical Technologist
Kapiolani Medical Center for Women & Children
Interested in a fulfilling career at Hawaii Pacific Health?                                                                                Apply Today!
Candice Pitman joined the Hawaii Pacific Health team in July 2015 as a certified surgical technologist in the operating room at Kapiolani Medical Center for Women & Children.
Originally from Fort Worth, Texas, Candice received her associate degree and certificate in surgical technology from Tarrant County College in Fort Worth, Texas. After graduating and working for one year as a surgical tech, she applied to Hawaii Pacific Health.
"I was hesitant and a little doubtful I'd even get the job because it was so far away from my family and everything I've known, but I've grown so much because of it and I love the hospital I work at," says Candice.
Candice rotates day, evening and night shifts five days a week, as well as rotates working weekends.
Her responsibilities vary depending on the shift she works. If she works during the day, she can be assigned to an operating room and be in surgical procedures throughout the day. If she works during the evening or night, she makes sure all necessary instruments, supplies and equipment are gathered for all scheduled procedures the next day. If there are any surgical procedures still going or added on, she finishes those before doing her night-shift duties.
"I enjoy the variability of each day. I rotate shifts and surgical specialties, so every day is different. The operating room is its own world in and of itself – it's exciting, heartbreaking, challenging and completely rewarding," says Candice.
The flexibility and variability of her schedule allows Candice to enjoy things like, hiking, going to the beach and spending time with close friends she's made in Hawai'i. She also has the opportunity to travel back to Texas to visit family.
"I've always enjoyed helping others, and I've found a career that is both rewarding and challenging," she says. "I like the people I've met here in Hawaii, and being able to live in paradise rather than just vacation. My co-workers are wonderful, and they make me feel like family."